VitaFusion CBD Gummies are a full-spectrum 10mg hemp extract to promote improvements in sleep with the natural sedative effects of the two main ingredients, melatonin, and CBD. The remedy is made by one of the top vitamin brands in the country, and the formula is only made with natural ingredients.
What are VitaFusion CBD Gummies?
Taking the time to relax before bedtime is an underrated necessity. Everyone needs good sleep, but actually reaching a level of calmness can be difficult. Even if they are able to get to sleep, staying that way can become a struggle. Various levels of stress only keep someone further away from the rest they need, but a simple supplement like VitaFusion CBD Gummies can help.
VitaFusion CBD Gummies, which offer a grapefruit lychee flavor, allows users to bypass the chalky and bulky capsules that can be difficult to swallow. By offering this formula in the gummy, users can look forward to a delicious treat right before they go to sleep. Since this remedy can easily cause the body to become tired, the company does not recommend using it unless they are about to sleep.
These CBD gummies are not considered as medication, which means that this is not a substitution for medical attention for any sleep disorder. Actual sleep aids can have a powerful effect on the body, and they are one of the most commonly abused substances today. By choosing a remedy that is natural yet effective, users reduce their risk of becoming addicted or building up a tolerance.
The VitaFusion CBD Gummies do not include gluten, dairy, high-fructose corn syrup, synthetic (FD&C) dyes, and no artificial flavors or sweeteners. The hemp used in the formula is sourced in the US, and the official website states the gummies are tested for purity.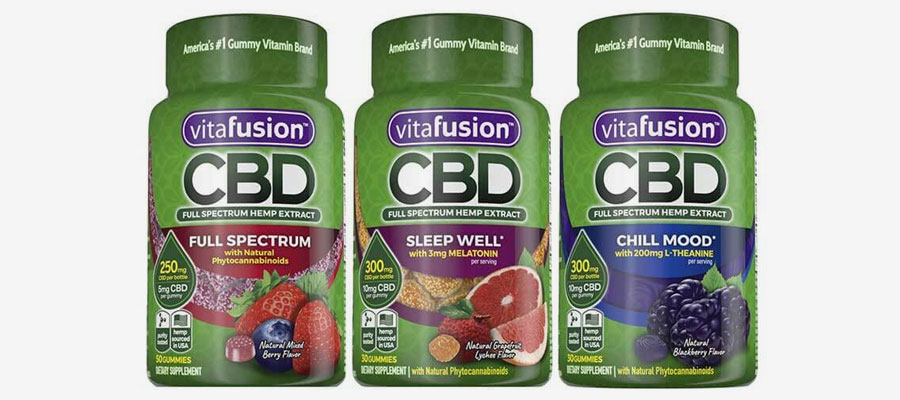 How Do VitaFusion CBD Gummies Support Better Sleep?
The reason that this product is so effective is that it combines the use of 3mgs melatonin and 10mgs full-spectrum hemp extract.
Melatonin is naturally created within the body when surroundings become darker. It is a reaction within the brain that helps individuals to fall asleep at night and occurs with this chemical, and the release of it is crucial in the sleep cycle. Though the body already has melatonin, the use of this hormone as an ingredient in sleep supplements can help regulate it in the body.
CBD is used for its own natural impact on relaxation. Studies show that CBD can relax the mind and body, regulating the serotonin in the body. Serotonin often is thought of as a "happy" hormone, but it is also a necessary part of sleep at night.
Purchasing VitaFusion CBD Gummies
Only found on the official website, consumers can get VitaFusion CBD Gummies for $29.99, plus the cost of shipping and handling. Every bottle comes with 30 gummies, and users will get 10mg of CBD and 3mg of melatonin in every serving. In total, the gummies come out to 300 mg in every bottle.
If the user finds that this product is not the right option for their sleep needs, they have up to 30 days to request a refund.

Frequently Asked Questions About VitaFusion CBD Gummies
What is CBD?
CBD, or cannabidiol, is a compound in cannabis. Though THC is also a compound in cannabis, CBD doesn't have the same psychoactive effect. The CBD in this product is full-spectrum hemp extract, which means that it uses the whole plant, rather than parts of it.
Is CBD legal?
Yes. The compound was legalized at the end of 2018 as part of the Farm Bill.
Will users become stoned or high from CBD?
Not at all. While there's a chance of having a trace amount of THC in this formula (since it uses full-spectrum hemp extract), there's no way to feel any psychoactive effect.
Final Thoughts on VitaFusion CBD Gummies
VitaFusion CBD Gummies provide a natural way to promote relaxation and sleep, reducing stress and conflict is a sure way to improve the chances of a more sound and restful night of sleep. The user only needs a gummy every night, providing them with a little bit of CBD that will combine well with 3mg of natural melatonin. There is no risk of building a tolerance, and users won't have to worry about any subscription costs.
For consumers that want to learn more about VitaFusion CBD Gummies, the customer service team can be reached by calling 888-334-5389.