VitaFusion CBD Chill Mood is a daily gummy formula that provides users with the naturally soothing effects of both CBD and L-theanine. The formula eases stress on the user and can be found only on the official website.
What is VitaFusion CBD Chill Mood?
With a year that has been full of stress, setbacks, and frustration, maintaining a good mood throughout the struggle can be almost impossible. Some people may have taken on healthier habits, while others may still be just as stressed as before. The use of a supplement could help, and VitaFusion CBD Chill Mood aims to fill that void.
VitaFusion CBD Chill Mood is available as a gummy, offering a natural blackberry flavor that is sweet and gentle. Taken at any time of day, this daily remedy balances out the brain's moods with natural ingredients that regulate the way that the mind handles emotions, stress, and other concerns. The formula is made by one of the top companies in the world, offering a month's worth of servings in a single bottle.
Every gummy contains 10 mg of CBD, which comes from full-spectrum hemp extract.
How Does VitaFusion CBD Chill Mood Balance the Mindset of the User?
The key to this formula's effectiveness is the combination of CBD (10 mg) and L-theanine (200 mg).
Full-spectrum hemp extract simply means that the company uses the entire plant to get the extract, creating a greater likelihood of the "entourage effect." CBD has been studied vigorously by researchers throughout the last few years (following the legalization established in the 2018 Farm Bill), allowing users to see positive effects on serotonin. Serotonin is released by the brain when triggered by one of the CBD receptors in the endocannabinoid system, allowing it to regulate the nervous system, digestion, eating habits, and mood.
L-theanine, on the other hand, is often found in green tea, and it has been linked to anxiety relief. With substantially more studies to back up the effects, some people use this ingredient separately to promote better focus, increase the power of the immune system, and even to manage blood pressure levels. The chemical works in a surprisingly similar way to CBD, which is what makes it such a good ingredient to pair with it.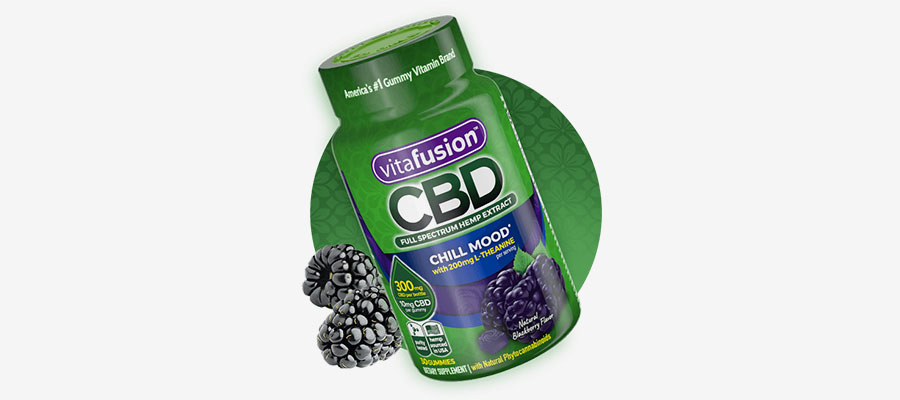 Pricing for VitaFusion CBD Chill Mood
The total cost of VitaFusion CBD Chill Mood is $39.99, though users will need to pay the cost of shipping and handling as well. The shipment is a one-time transaction, and users will not have to worry about additional charges or automatic shipments without their permission.
The formula comes with a return policy that covers the first 30 days after the purchase is made.
Frequently Asked Questions About VitaFusion CBD Chill Mood
Is CBD legal?
Yes. The 2018 Farm Bill legalized CBD from hemp extracts for the entire United States. Some laws may vary in different regions, but it is federally legal.
Does VitaFusion CBD Chill Mood include THC?
Yes. However, in adherence to federal law, only trace amounts are found, which means less than 0.03% THC is in this formula.
How do users know if this formula has enough CBD to make a difference?
Every person is different. Users should start with the daily dose to determine if this level of CBD is enough for their needs.
How is broad-spectrum extract different from full-spectrum extract?
Broad-spectrum extract only uses a specific part of the hemp plant. However, the full-spectrum extract will use the entire plant, including the stem and leaves.
Is VitaFusion CBD Chill Mood safe?
Yes. The creators follow the current regulations for supplements. However, the website doesn't include any testing results from labs to establish transparency. The gummies do not contain Gluten, Dairy, High-Fructose Corn Syrup, Synthetic (FD&C) Dyes, or Artificial Flavors and Sweeteners.
Where does the extract in VitaFusion CBD Chill Mood come from?
All of the hemp used in VitaFusion CBD Chill Mood comes from the United States, though more specific details are not available.
Will VitaFusion CBD Chill Mood cause the user to have a positive drug test?
Due to the trace amounts of THC, there's a possibility of testing positive in a drug test.
Interested consumers, can contact the VitaFusion company to order the CBD Chill Mood product, or leave a comment and ask questions Monday through Friday 8:00 AM – 8:00 PM EST by phone or email at:
Phone toll-free at 877-369-2380
Email https://www.gummyvites.com/en/vitafusion/contact-us
Final Thoughts on VitaFusion CBD Chill Mood
VitaFusion CBD Chill Mood works for any person that needs a way to relax without turning to prescription-only drugs. The formula easily breaks down in the body with the chewable design of the gummy, releasing both CBD and L-theanine to relax and regulate the body. While this remedy is not meant to replace medical attention for depression or other mental conditions, it can support otherwise healthy individuals.