Reliv Bliss is a topical CBD cream that claims to relieve pain using natural ingredients. Found exclusively at RelivBliss.com, the 100% natural formula is said to be a safe and effective certified organic Cannabis Sativa (Hemp) with cannabidiol infusions that is an FDA-registered Over The Counter (OTC) product now available.
By applying Reliv Bliss to your sore muscles and joints daily, you can get effective pain relief in minutes.
What is Reliv Bliss? How does Reliv Bliss work? Does Reliv Bliss really work as advertised? Find out everything you need to know about Reliv Bliss today in our review.
What is Reliv Bliss?
Reliv Bliss is a natural pain cream that uses CBD to relieve sore muscles and joints. Like other topical CBD creams, you apply Reliv Bliss directly to a problematic area. Some people apply Reliv Bliss after a workout. Others apply Reliv Bliss to aching joints.
You can find Reliv Bliss online at RelivBliss.com. The company has also launched several online marketing campaigns featuring dramatic videos of customers using the formula.
In one video, a patient discovers she has no cartilage, and her bones are grinding against each other, but she uses Reliv Bliss to relieve joint pain with no surgery required. A doctor told that woman she was never going to walk again without surgery. After taking Reliv Bliss, she's back to normal.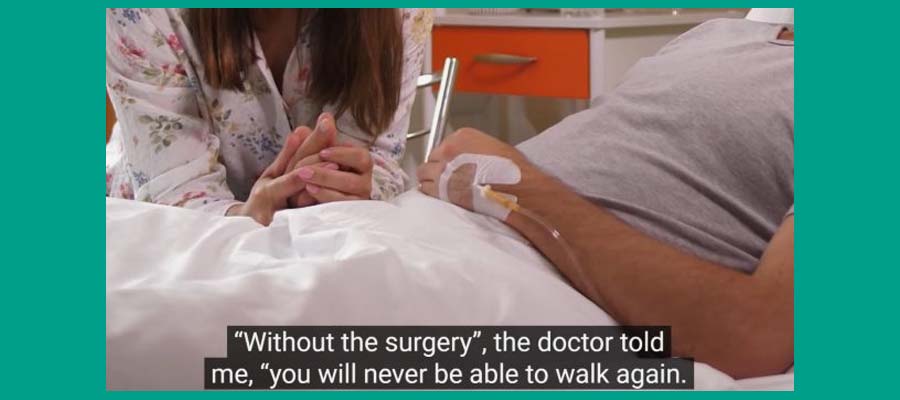 By applying Reliv Bliss to your muscles and joints, you can purportedly rebuild cartilage, relieve pain, and enjoy better mobility at any age. The company claims the formula works after just four days of application. Each bottle of Reliv Bliss is priced at $50 to $70.
How Does Reliv Bliss Work?
Reliv Bliss claims to work like any other CBD cream: it uses CBD and other active ingredients to penetrate the skin and soothe inflammation. Some studies have shown topical CBD has powerful effects at soothing inflammation on the body. Other studies show CBD may not be as effective. However, people use CBD daily for natural pain relief, and many people swear CBD pain relief cream works as advertised.
Reliv Bliss is exclusively available through RelivBliss.com though the makers of Reliv Bliss have not launched any clinical trials or other studies analyzing the effects of the formula. They make big claims about Reliv Bliss's pain relief – yet it's unclear if it works as advertised to provide any type of relief.
It's also unclear if Reliv Bliss is more or less effective than other CBD pain relief creams. Other companies are transparent with their CBD dosage. Reliv Bliss does not disclose the amount of CBD within the cream.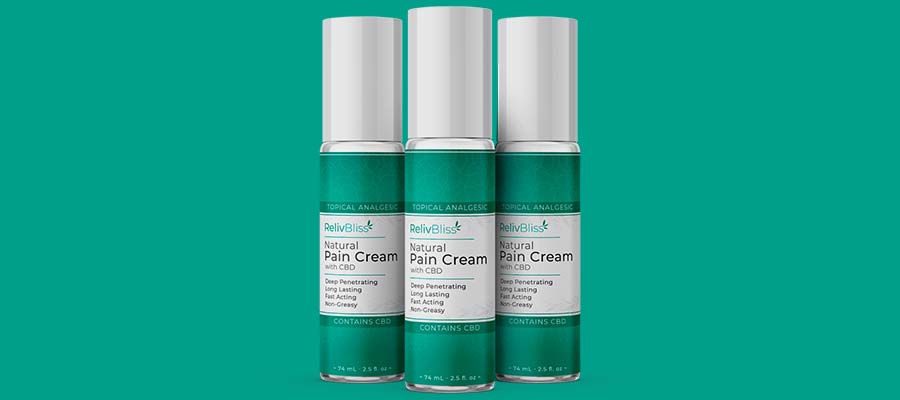 CBD dosage matters. When you're buying a CBD pain cream for $70 per bottle, you expect it to contain significant amounts of CBD. CBD is the active ingredient, and most people want the highest dosage possible. Even comparing to a product like Pro Restore Plus, there seems to be similarities but more transparency for one than the other. This is also why researching and reviewing RelivBliss CBD cream is smart thing to do as many hemp-derived CBD products are not worth it due to many unfavorable company practices.
Other pain relief creams proudly advertise their CBD dosage. Reliv Bliss does not disclose its CBD dosage at all. That suggests the cream does not contain a significant amount of CBD.
Despite the lack of ingredient transparency, the company claims its formula can interact with your body's endocannabinoid system to reduce pain:
"The human body is equipped to address pain through the endocannabinoid system, the CB-1 receptor, and the CB-2 receptor. If you have never heard of the endocannabinoid system, or the CB-1 and CB-2 receptors, it is no wonder…The endocannabinoid system was not even named until after the discovery of these receptors. CBD helps improve those deficiencies improving the body's healing response. Take advantage of RelivBliss product bundles today!"
Oddly, the makers of Reliv Bliss also seem to suggest their formula can rebuild cartilage. In one sales video, a woman was told she had no cartilage between her knees, which was causing joint pain. She took Reliv Bliss and relived pain.
The company also claims that its formula reduces pain in two ways: by increasing your body's natural healing response and by reducing inflammation.
Reliv Bliss Features & Benefits
The makers of Reliv Bliss advertise all of the following features and benefits:
Helps relax muscles and joints
Apply directly onto the affected area
Interacts with your endocannabinoid system to increase the healing response
Fights inflammation
Penetrates deeply, lasts a long time, and works quickly
Overall, Reliv Bliss claims to quickly and effectively soothe joint and muscle pain using CBD. The CBD penetrates your muscles intensely, increases your body's healing response, and fighting inflammation.
Reliv Bliss Ingredients
Reliv Bliss does not disclose its full list of ingredients upfront. We know the formula contains some amount of cannabidiol (CBD), although we don't know the dosage of CBD.
We also don't know any other active or inactive ingredients. Some CBD pain relief creams contain ingredients like turmeric, for example, for additional anti-inflammatory effects. Other CBD pain creams only contain CBD.
Overall, you should not apply a topical cream to your body without knowing the full list of ingredients. The lack of ingredient information with Reliv Bliss is unusual.
Scientific Evidence for Reliv Bliss
Without ingredient or dosage information, it's hard to connect the formula to any scientific evidence. The company has not performed any studies or trials on the product to verify any of the advertised claims.
On its sales page, Reliv Bliss cites 11 studies showing various effects of CBD. The company cites this 2015 study, for example, that measured the impact of transdermal CBD gel on arthritis patients. Patients received 6.2 to 62mg per day of CBD in the form of transdermal (skin) cream. Researchers concluded, "topical CBD application has therapeutic potential for relief of arthritis pain-related behaviors and inflammation without evident side-effects."
Other studies show similar results, finding that applying CBD topically can relieve pain in many patients – including those with arthritis.
The makers of Reliv Bliss also claim their formula can rebuild cartilage. Several studies have explored a potential connection between CBD and cartilage production. Some researchers have suggested that CBD relieves joint pain by encouraging the growth of cartilage.
In this 2010 review study, for example, researchers found cannabinoids could impact tissue engineering, and researchers concluded there was "sufficient evidence from the past literature and from our experimental evidence to support the potential of cannabinoid-based drugs in tissue-engineered applications aimed at reducing cartilage degradation and facilitating cartilage repair."
Ultimately, topical CBD pain relief cream has shown a genuine ability to reduce joint pain and rebuild cartilage. However, we have no dosage information with Reliv Bliss, making it impossible to connect Reliv Bliss to any of this research.
It's possible Reliv Bliss contains a significant amount of CBD – 50 to 100mg per dose. It's also possible it contains only trace amounts of CBD – less than 5mg per dose. With no dosage information, there's no scientific evidence Reliv Bliss works as advertised.
Reliv Bliss Pricing
Reliv Bliss is priced between $50 and $70 per bottle, depending on how many bottles you order. Here's how pricing breaks down: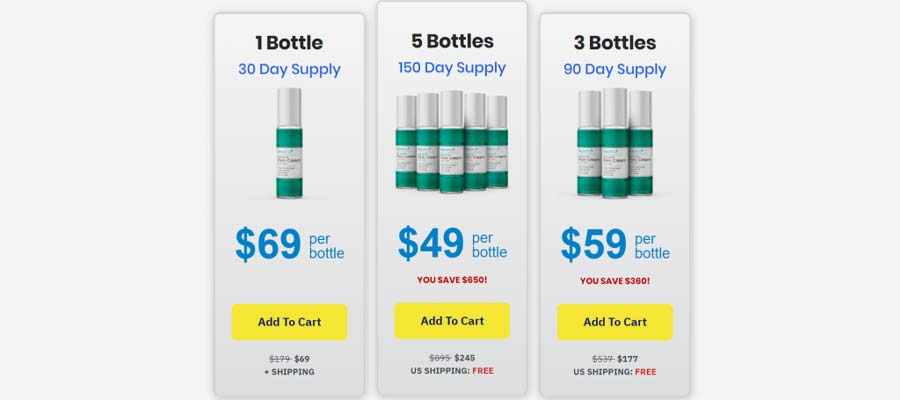 1 Bottle: $69 + $7.95 Shipping
3 Bottles: $177 + Free Shipping
5 Bottles: $245 + Free Shipping
Reliv Bliss Refund Policy
Reliv Bliss has a 60-day money back guarantee. If you are unsatisfied with Reliv Bliss for any reason, then you can request a complete refund within 60 days.
Just return the bottles (even if they're empty or partially empty) to receive a refund.
Who's Behind Reliv Bliss?
The maker of Reliv Bliss does not disclose its name or manufacturing location. There's no information about where Reliv Bliss is made or where its ingredients are sourced. The company claims to create the product in a "GMP certified lab," but that's all we know.

Reliv Bliss's online marketing needs some work. The official website is riddled with grammatical errors and awkward phrasing.
The only way to contact the makers of Reliv Bliss is via the online form here: https://relivbliss.com/contact/index.php
Final Word
Reliv Bliss is a CBD pain relief cream that makes bold claims about its benefits. The cream purportedly rebuilds cartilage and relieves pain. Just apply the cream topically to any muscles or joints, and it starts working quickly.
There's some evidence CBD creams can rebuild cartilage and relieve pain. However, since Reliv Bliss does not disclose dosage or ingredients upfront, it's impossible to compare these studies to Reliv Bliss.
At $70 per bottle, you can find better, more transparent CBD pain relief creams than Reliv Bliss available online. To see the RelivBliss CBD cream and learn more about its proclaimed 100% natural and effective hemp CBD topical roll-on product, visit RelivBliss.com today.