Kim Kardashian and CBD have become a trending topic of interest in the 2019 calendar year as the Keeping Up With The Kardashians TV star has been very supportive for the cannabis oil extract and her health. The wave of Kim K and cannabidiol began earlier this year when she threw a 'very-chill' CBD-centric baby shower when her and Kanye were soon to have their fourth kid, a boy by the name of Psalm West (who was nearly given the name 'Ye').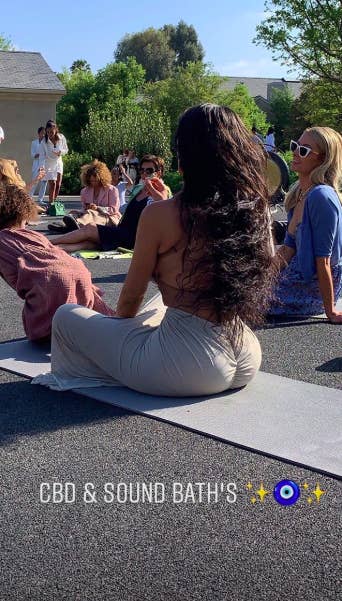 Before having her fourth child and hosting the CBD-themed baby shower, where guests were treated to "CBD everything," such as beverages and massages – there does not appear to be any visible evidence that Kim had any dealings with CBD beforehand. However, this began an association with Kim K and CBD that has since made headlines a handful of times, whether it was her directly and how it 'Saved Her Life', her sister Courtney (Poosh), her other sister Kylie Jenner (CBD Happy Tea) or people who have appeared on the KUWTK TV show (like Malika Haqq). Let's review this fascinating relationship of CBD and Kanye's wife and just why she is praising it so much between helping her family, her personal life as well as her ambition to study law.
Kim Kardashian's CBD Praises
CBD is the top-selling herbal ingredient in 2019 and Kim K might have had her helping hand in the matter as she has opened up about her experience with CBD and it appears that she is pleased with the substance on numerous occasions. From the bath bombs, massage oils, kombucha, hemp flower bouquets, CBD-infused chocolates, vapes to the popular oral tincture form, it seems all types and formats of CBD have been liked by the reality TV star.
Kardashian stated therein that she's been a huge fan of the substance ever since she started to feel overwhelmed, and then after starting to take CBD, it really changed things for her. Even with the demands of law school and family, she also adds that she realized she could manage her hectic life without needing to rely on CBD too heavily. As she explains, "you have to take it situation by situation."
Back when the news broke about CBD saving her life in regards to four children (North, Saint, Chicago and Psalm), studying the legal system for the bar exam and running multiple businesses (like KKW Beauty, KKW Fragrance, and SKIMS), the 38-year-old said:
"How do I do it all? It is exhausting," […] I just say CBD. But I do. It really has gotten me through a lot."
Kim, who does not partake in 'smoking marijuana' or 'getting high' at all, added;
"That's not my thing. I got into CBD a few months ago. It's saved my life. Even to sleep at night. I like the gummies. I will just use a little bit and fall asleep [laughs]. I don't think I would take a Xanax or an Ambien again."
This seemed to kickstart a wave of Kim Kardashian endorsing the benefits of CBD as well as her sister and costars on the reality television show on E!.
During an interview with Poosh, who has affiliations with Kim's sister Courtney and their CBD-infused skincare product line, she added;
"I've been a huge fan of CBD ever since I started feeling overwhelmed, which came with starting law school and having a fourth baby." […] "I started taking CBD, and it really changed things for me. It calms me down automatically. Once the baby came and school started, I realized I can handle this and it's not as bad as I thought."
It will be interesting to see how the relationship between Kim Kardashian and CBD evolves, as the multiple headlines look to keep coming from not only her and her fondness of cannabidiol, but her family's reach as well.
Image Courtesy of: JC Olivera/WireImage