A new hemp product has appeared online called HEMP EMU. It's a roll-on CBD gel that claims to offer fast-acting, long-lasting pain relief.
But is HEMP EMU legit? Or is this yet another overpriced, underpowered CBD product seeking to capitalize on the cannabidiol surge? The FDA has already fought against unapproved and misleading claims multiple times in 2019 while promising to do the same in 2020. Let's review the Hemp EMU Hemp CBD Relief Roll-on product, then address a fake celebrity endorsement from Rob Gronkowski, while still highlighting the potential effects of why a quality roll-on CBD gel might be attractive to try despite these specific devious gimmicks used commonly.
What is HEMP EMU?
HEMP EMU, found online at HEMPEMU.com, is a roll-on CBD gel that contains 400mg of concentrated cannabidiol (CBD) in each 3 oz. bottle.
Similar to other pain relief gels, HEMP EMU claims to offer "fast-acting and long-lasting targeted relief for sore muscles, joint aches, & pains". The manufacturer also claims to source its CBD from "U.S. certified organic hemp plants".
The HEMPEMU.com website has limited information about where HEMP EMU is made or who's running the website. This is much different than the best CBD oils in 2020 we reviewed where each of these companies openly and even proudly promote themselves to ensure consumer confidence and transparency for their product users and customers. Also, take a competing pain relief lotion/cream product like Pro Restore Plus and compare the transparency and integrity of each company and it will quickly become easy to spot quality versus clever advertising schemes.
As of January 2020, the official Hemp EMU website is selling a pain relief cream for $34.95 as well as the roll-on pain relief gel for $29.95. Let's continue to see how the company's direct domain differs from the tactics applied by these fraudulent marketing funnels designed to trick users and influence them to buy products associated with celebrities and famous people like Rob Gronkowski.
Benefits of HEMP EMU
HEMP EMU advertises all of the following benefits:
Relieve Joint Pain: The HEMP EMU website, oddly enough, says that the formula "restores pain in your joints", which sounds like it would actually make pain worse. However, it's clear the cream is targeted towards people of any age who want relief from joint pain.
Cure Chronic Pain: HEMP EMU claims to "soothe body wide chronic pain". Do you constantly suffer from pain and rely on medication? HEMP EMU claims to cure this issue with just a simple roll-on cream.
Improve Flexibility: HEMP EMU claims to improve flexibility and mobility by reducing joint pain.
HEMP EMU does not provide any evidence to support these benefits. As far as we can tell, HEMP EMU is completely untested in any sort of clinical or scientific setting.
How to Use HEMP EMU
HEMP EMU comes in the form of a roll-on stick – similar to an average deodorant or antiperspirant.
You pop off the cap, then rub the exposed gel onto your back, neck, shoulders, elbows, wrists, knees, hips, feet, hands, ankles, joints, and muscles.
How Does HEMP EMU Work?
HEMP EMU contains CBD and a handful of other ingredients:
CBD: HEMP EMU claims its hemp is tracked "from soil to product to guarantee the best formula on the market for maximum pain relief." Each 3 oz. container has 400mg of concentrated CBD isolate. CBD isolate is superior than hemp seed oil, which does not contain any CBD or therapeutic benefits.
Emu Oil: HEMP EMU also contains an ingredient called emu oil, which the manufacturer describes as "a naturally powerful anti-inflammatory transdermal carrier designed to open the pores of your skin." The emu oil in HEMP EMU is certified by the American Emu Association. Marketing aside, emu oil is a bright yellow liquid (mostly fat) collected from the natural fat deposits underneath the skin of the emu bird.
Menthol: HEMP EMU also uses menthol, which "energizes cold receptors" to create a cooling effect on your skin. Menthol is a common ingredient in cooling sprays and pain relief products.
Turmeric: Turmeric is a popular anti-inflammatory purported to have healing benefits. Turmeric is the second-listed ingredient in HEMP EMU.
Other Ingredients: Other active and inactive ingredients in HEMP EMU include alcohol, MSM, arnica, peppermint essential oil, glucosamine, eucalyptus essential oil, avocado oil, willow bark extract, clove essential oil, and natural sorbic acid.
HEMP EMU Pricing
HEMP EMU is only available online through HEMPEMU.com. There's also only two pricing options:
One Bottle: $29.95 USD
Three Bottle Bundle: $69.95 USD
The Hemp EMU pain relief cream appears to be 'sold out', which costs $34.95. Shipping is free on all orders over $50. You can only pay via PayPal.
HEMP EMU Moneyback Guarantee and Refund Policy
HEMP EMU claims to have a 100% money back guarantee.
You can request a refund at any point within 30 days of your purchase.
Who's Behind HEMP EMU?
HEMP EMU provides no information about itself, its location, or where the product is made. The official website only lists an email address and phone number.
Email: info@hempemu.com
Phone: 855-223-1516
A WHOIS lookup on hempemu.com tells us the website was registered on October 28, 2019 by an anonymous individual or company.
The posted phone number is linked to a company called Give N Grow Capital, a shady online lender that lists the same phone number on its website. That company also lists a physical address at 295 Goolsby Blvd, Deerfield Beach, Florida 33442.
HEMP EMU and Rob Gronkowski: Shady Affiliate Marketing Spotted Online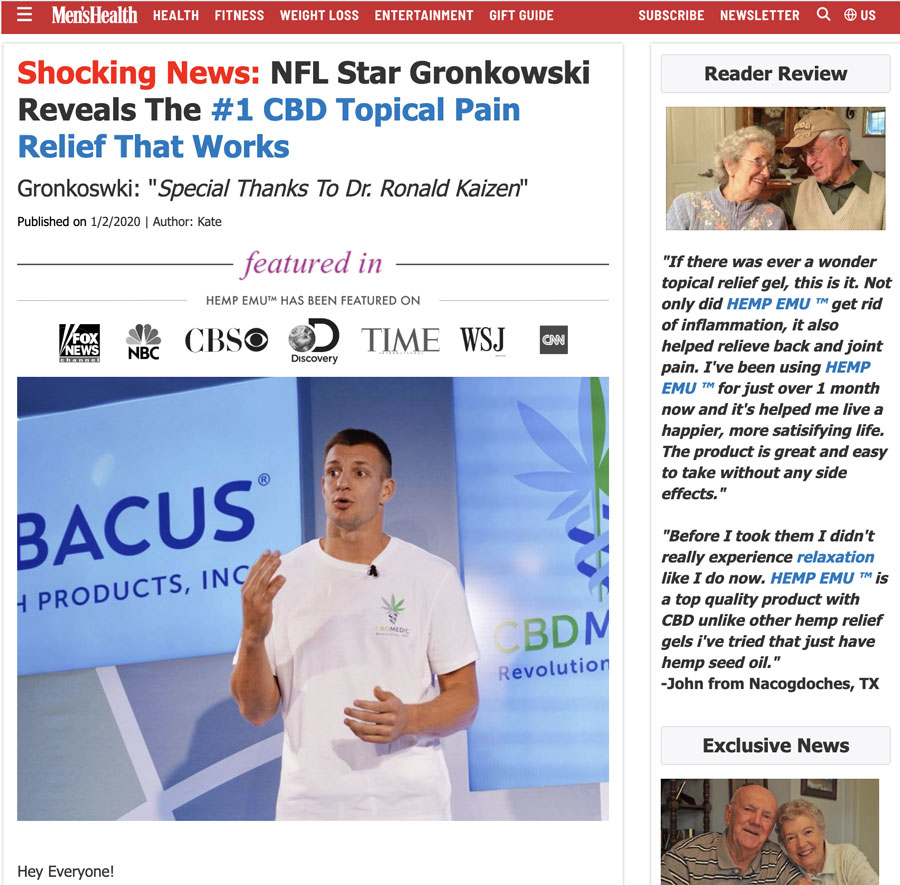 Affiliate marketers have started promoting HEMP EMU in unusual ways.
One of the first websites that pops up when you Google "HEMP EMU" is HempsHealthLife.com. The website appears to have paid to occupy the top paid search position for "HEMP EMU" and related terms.
The website is very problematic. The first thing you'll notice is a huge picture of Rob Gronkowski at the top of the page.
There's also a huge headline saying, "Shocking News: NFL Star Gronkowski Reveals The #1 CBD Topical Pain Relief That Works".
Then, the website introduces HEMP EMU as a miracle cure specifically endorsed by Rob Gronkowski. The website also claims HEMP EMU has been featured on Fox News, NBC, CBS, Discovery, Time, The Wall Street Journal, and CNN.
Obviously, all of this information is false: HEMP EMU has never been featured on any major news network, nor has Rob Gronkowski ever endorsed the product in any way.
The website describes how former NFL New England Patriots superstar Rob Gronkowski appeared on a TV show with a man named Dr. Ronald Kaizen. During a behind-the-scenes interview, the two men reportedly shared that they had "similar problems with muscle and joint pain". Both men admitted that they used HEMP EMU for powerful topical pain relief because it "relieved their pain instantly".
The website goes on to explain how ordinary people have been able to cure their pain within "less than 10 seconds" of applying the product. Areas of inflammation are immediately soothed. Chronic pain that has bothered people for years is instantly cured.
The problem with this story, of course, is that it's totally fictitious. There's no endorsement from Rob Gronkowski, and there are no proven benefits behind HEMP EMU whatsoever.
Rob Gronkowski is Not Connected to HEMP EMU in Any Way
Rob Gronkowski has no connection to HEMP EMU whatsoever, and there is no evidence to support any of these ridiculous claims. Also, there pre-lander sales page also features bogus user comments from people who have tried Hemp EMU CBD roll-on pain relief gel product: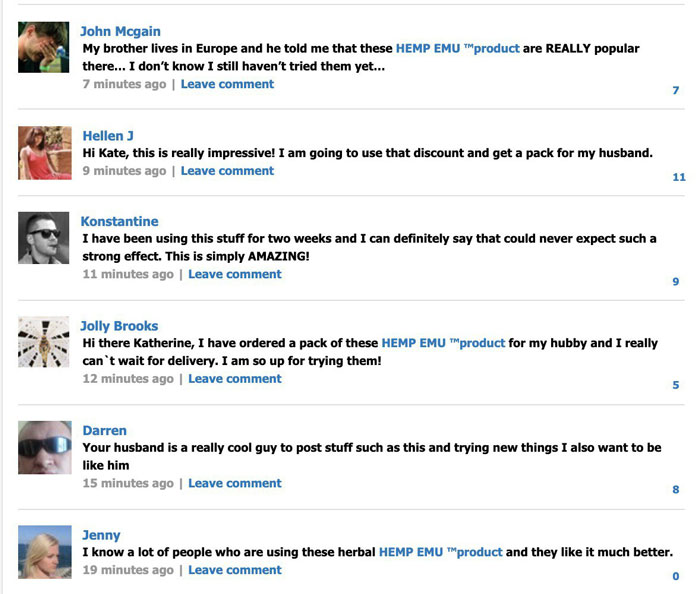 We also can't even find any person named "Dr. Ron Kaizen". The photo of Dr. Kaizen used on the website is a stock photo.
The affiliate website advertises a "Buy 2 Get 1 Free" offer, then links you to the HEMPEMU.com website, claiming that only "12 offers remain". The website claims the offer expires the same day (the website automatically displays whatever date it currently is). There is also search results that lead to 'HEMP EMU reviews' like this one: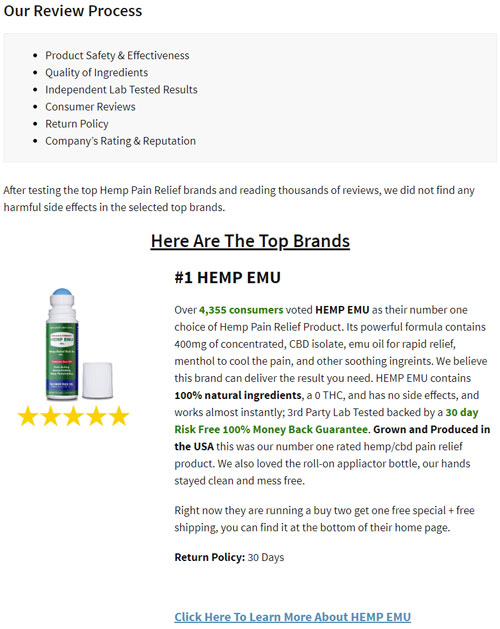 Whether to trust these reviews of Hemp EMU products or not, it would be easy enough to call this off-sides and relatively deceptive when not necessary should the product work half as well as the colorful marketing language would have you believing without questioning.
Rob Gronkowski Partnered with a CBD Company Called CBDMedic in 2019
HEMP EMU seems to be deliberately trying to mislead people because they know you've heard about Gronk behind and connected to some CBD company.
It's true that Rob Gronkowski has some connection to the CBD space. However, he has no connection to HEMP EMU whatsoever.
In September 2019, a CBD company called CBDMEDIC announced a partnership with Gronk. CBDMEDIC is a legitimate CBD company offering a range of topical pain relief products, skincare products, and more. You can buy CBDMEDIC products online or in certain retail stores.
Gronk has been outspoken about his support for CBDMEDIC and CBD in general:
As Gronkowski mentions in the video, CBD products from CBDMEDIC changed his life:
"These products changed my life. I wish I had been able to use CBDMEDIC while I was playing. It would have made a huge difference in my pain management during my career and I know it can help many others who are looking for safe, pill-free solutions to managing pain."
Rob Gronkowski made headlines in the CBD industry once again in October 2019 when he publicly called on the NFL to allow its players to use CBD products to aid in their recoveries.
Ultimately, Rob Gronkowski has a clear and public connection to the CBD space through his partnership with CBD Medic. However, neither Rob Gronkowski nor CBDMEDIC have any apparent connection to HEMP EMU.
You Can Buy Legitimate Hemp Emu Oil from Amazon
Amazon, GNC, and other reputable retailers sell various products that combine hemp oil with emu oil.
A company called Advanced Therapeutics sells their "Hemp Intensive Healing Pain Rub with 10% Emu Oil" on Amazon, for example, for $47 for a 2 oz jar.
There's also a tincture made by a company called Emu & Hemp. The tincture contains 1500mg of hemp extract mixed with emu oil for $43 per 2 oz bottle.
These hemp emu oil products and similar products can be found online in seconds.
Final Word
Based on everything we can find online, HEMP EMU is either:
A Costly, Semi-Transparent Product: There seem to be legitimate benefits to using hemp oil and emu oil. However, the claims made online by HEMP EMU, and the shady marketing tactics we see from affiliates, lead us to assume that this is an overpriced, overhyped product at best.
A Too-Good-To-Be-True Scheme: It's also possible that HEMP EMU contains none of its advertised ingredients. It could contain dangerous banned ingredients, for example, sold online with ridiculous marketing claims attached. We know nothing about the company behind HEMP EMU or where the product is made.
In either case, you should probably stay away from HEMP EMU and its CBD roll-on gel product – no matter what Rob Gronkowski purportedly tells you.