Keoni is a CBD company offering a range of oils, rubs, capsules, gummies, and more.
Found online at KeoniCBD.com, the company emphasizes simple, quality, value products. The company also prides itself on clear and accurate labels and high-quality customer service.

What are Keoni CBD products? How do Keoni CBD products work? Find out everything you need to know about Keoni today in our review.
What is Keoni?
Keoni is a CBD product company based in Louisville, Kentucky. Keoni is a subsidiary of a company named Wellness Brands.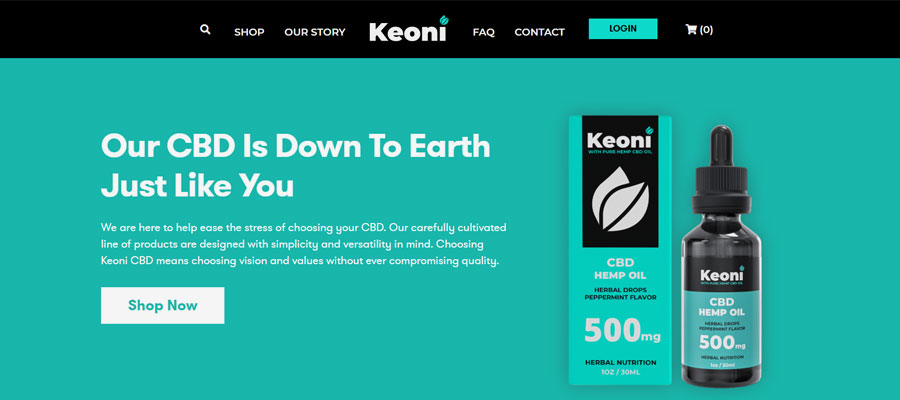 The company describes itself as a "homegrown midwestern company" and "more than a CBD company". Keoni emphasizes a community-based approach towards cannabidiol. All company products are formulated to provide relief – from the farmers and field workers to the scientists and administrators.
Of course, we've seen other CBD companies makes similar claims. Many CBD brands claim to be more than just a CBD brand. Let's take a closer look at Keoni's products – including what makes Keoni CBD different from competing CBD products.
What Makes Keoni Different?
Overall, Keoni aims to provide simplicity without compromising quality. The company's flagship CBD oil is all-natural – like most other CBD oils on the market. The ingredients are also purely organic. No CBD company can truthfully claim to offer USDA Organic certified CBD, which is why Keoni (and other CBD companies) do not have USDA Organic certification.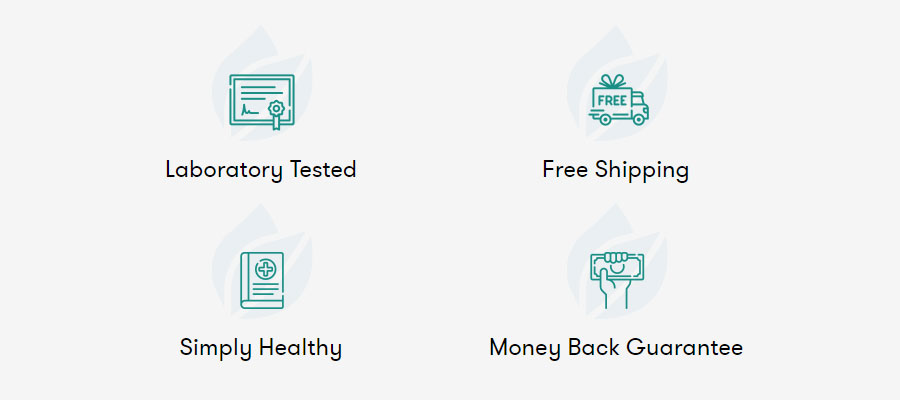 By taking Keoni's CBD oils and other products daily, you can purportedly help with pain, anxiety, inflammation, and sleep cycles. The company claims unnatural painkillers are "awfully addictive and dangerous" and come with unwanted side effects. Keoni's CBD products, meanwhile, are specially formulated to be powerful and safe to use.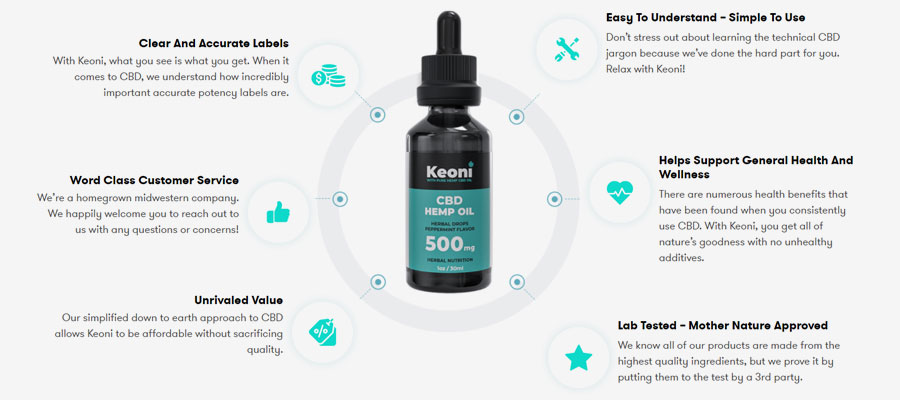 Some of the features that differentiate Keoni from other CBD companies include:
Laboratory Tested: All Keoni products are tested by certified third party labs to guarantee purity and quality.
Free Shipping: Keoni provides free shipping across the continental United States.
High Quality, Pure, and Organic Ingredients: Keoni exclusively uses natural ingredients in most formulas (although the gummies contain both artificial and natural flavors).
Organically Grown in the United States: Keoni claims to use purely organic ingredients. As with other CBD companies, Keoni has no third party organic certification, which is difficult for CBD companies to obtain. However, Keoni grows all ingredients in the United States without herbicides or pesticides.
Affordable Prices: Keoni's CBD products are not sold at rock-bottom budget prices, but the company offers reasonable prices and good value across all CBD products. You can buy a bottle of tincture with 1,000mg of CBD, for example for under $90 through Keoni. Keoni's affordable pricing is one of the company's major selling features.
Down to Earth: Keoni brands itself as a 'normal' CBD company that is more down to earth than other providers. The company advertises pure, high-quality formulas – without the pricing or fanciness of some of the luxury CBD brands.
Overall, most CBD companies emphasize natural ingredients, laboratory testing, and pure formulas – and Keoni is no different. Let's take a closer look at Keoni's CBD product lineup.
Keoni CBD Products
While other CBD companies offer dozens of products across multiple categories, Keoni emphasizes a smaller number of products, focusing on one or two good products per category. As of 2020, Keoni sells 7 CBD products, including oils, gummies, topical rubs, and more.
Keoni CBD Gummies (500mg)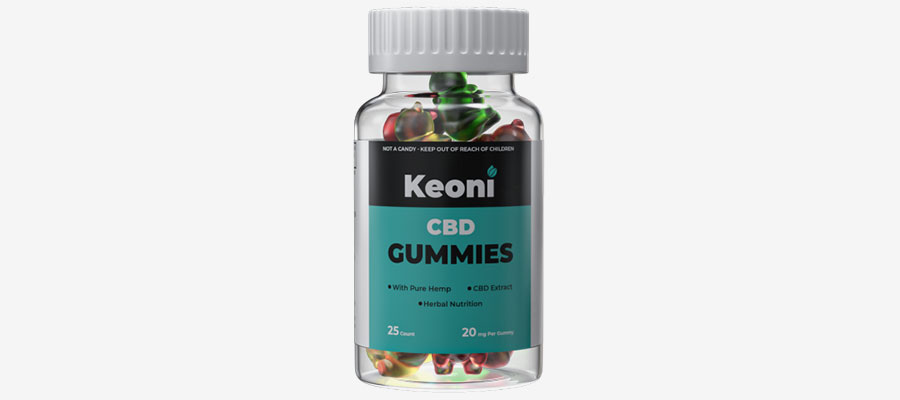 Keoni sells a lineup of CBD gummies with a simple formula and a high dose of CBD. Each gummy has 20mg of CBD, giving you 500mg of CBD in each jar (25 gummies per jar). Each gummy also has 2.2g of carbs, and Keoni emphasizes getting a strong daily dose of CBD in gummy form without the guilt. The gummies do not contain CBD, and the hemp is grown organically in the United States.
The full list of ingredients in Keoni's CBD Gummies include hemp (CBD isolate), corn syrup, water, gelatin, citric acid, pectin, natural and artificial flavors, vegetable oil, carnauba leaf wax, FD&C yellow 5, red 40, yellow 6, and blue 1.
Keoni does not claim their CBD gummies contain 0% THC, although they do claim the gummies are rated to contain less than 0.3% THC.
Price: $54.99
Keoni CBD Hemp Intensive Relief Rub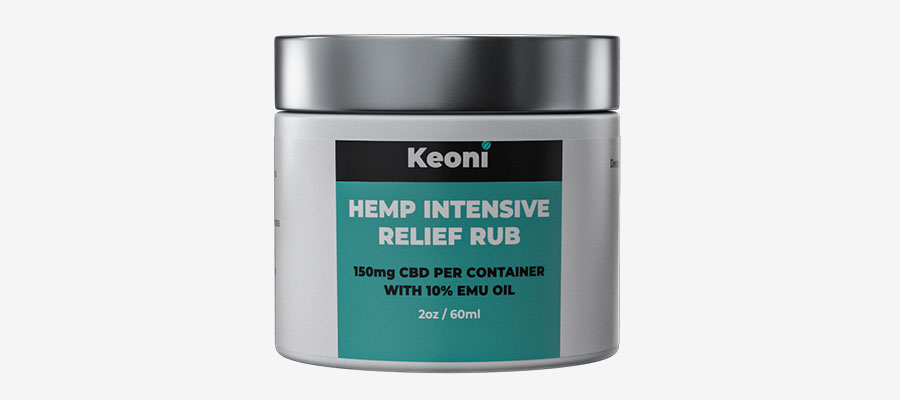 Keoni recommends using their topical relief rub to treat aches and pains all over your body. Each jar of the Keoni CBD Hemp Intensive Relief Rub contains 150mg of CBD oil. The formula also contains emu oil for added anti-inflammatory activity.
Keoni claims their CBD rub penetrates deep underneath your skin to relieve muscles and joints, leaving your skin healthy and hydrated. Like other Keoni products, the rub is sourced from hemp grown organically within the United States. Each jar contains exclusively natural ingredients, with the first listed ingredients being purified water, emu oil, and aloe leaf extract.
You apply the Keoni CBD Hemp Intensive Relief Rub to an affected area no more than 3 to 4 times per day.
Price: $41.99
Keoni CBD Hemp Oil Herbal Drops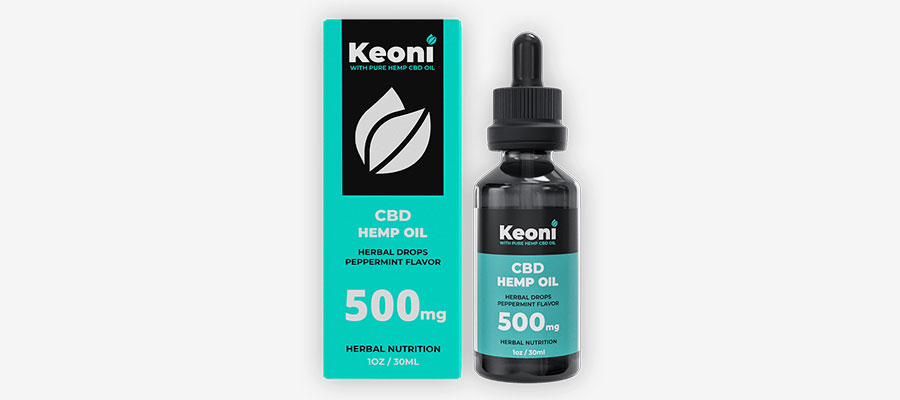 Keoni's CBD Hemp Oil Herbal Drops are a tincture with 300mg to 1,000mg per bottle. The tincture allows you to enjoy the benefits of CBD without the complexities or additives of other formulas. Keoni claims no other CBD product outperforms its tincture. And, like other Keoni products, the tincture is sourced from hemp grown organically within the United States with no pesticides or herbicides.
Keoni also emphasizes good value with its CBD oil. The company claims to provide the most CBD per dollar than other products. The tincture contains just two listed ingredients: hemp seed oil and natural flavor. You can buy the tincture in 300mg, 500mg, or 1,000mg varieties. All oils are rigorously tested by a third party lab to verify label accuracy, potency, and integrity.
Price: $49.99 (300mg), $69.99 (500mg), or $89.99 (1,000mg)
Keoni CBD Liquid Capsules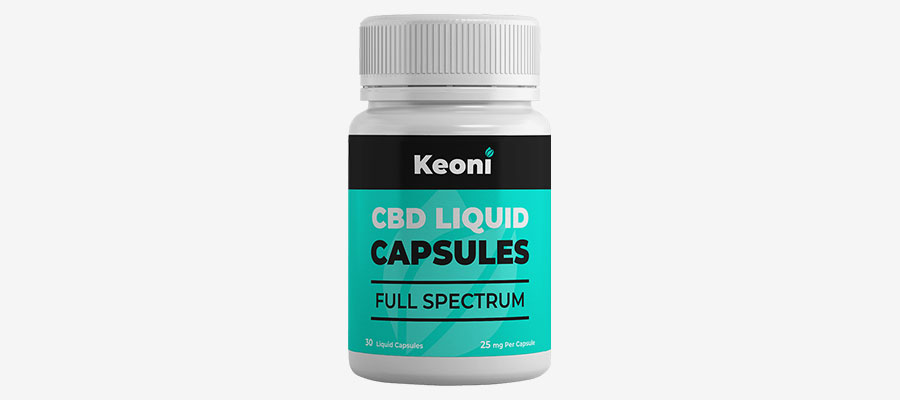 Keoni's CBD Liquid Capsules contain 750mg of total CBD per bottle, delivering 25mg of CBD in each capsule. You take capsules daily to support the benefits of CBD, and the formula is lab tested to verify its potency and effectiveness. In fact, Keoni recommends taking the capsules like a daily vitamin and "start noticing results within minutes".
The formula contains just four listed ingredients, including phytocannabinoids, medium chain triglycerides (MCT), hydroxypropyl methylcellulose, and silicon dioxide. Like other Keoni CBD products, the CBD in the CBD Liquid Capsules is sourced from hemp grown organically in the United States. This is also one of the few Keoni CBD products available as a full spectrum product – not as an isolate.
Price: $35.99
Keoni CBD Relief Roll On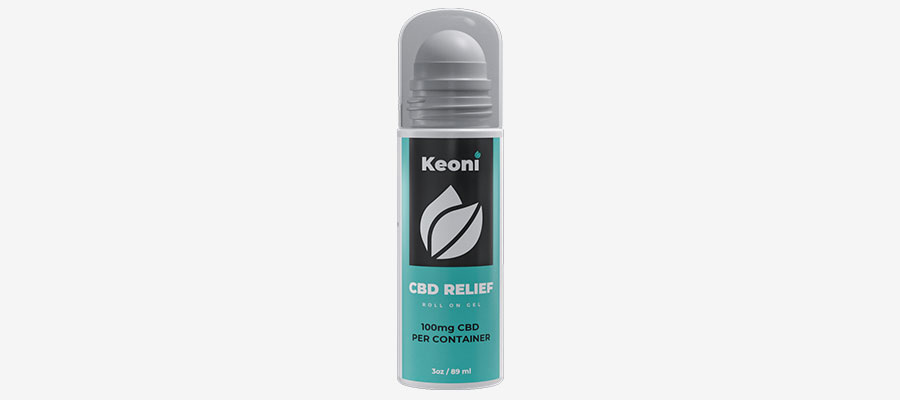 Keoni's CBD Relief Roll On product works like other topical CBD roll-on products. You apply the product to sore muscles and aches daily to support mobility, manage pain, and enjoy other benefits.
Keoni's CBD Relief Roll On delivers 100mg per jar. Keoni markets the product towards athletes, hikers, physical workers, and others who experience aches and pains regularly. The extra strong formula claims to leave the targeted area feeling cool and refreshed every time.
To create the CBD Relief Roll On product, Keoni uses purified water, vegetable glycerin, menthol, arnica montana flower extract, boswellia serrata extract, and hemp oil, among other ingredients. The hemp oil in the CBD Relief Roll On capsule is sourced from hemp grown organically in the United States.
Price: $44.99
Keoni Refund Policy
Keoni does not list a specific refund policy on its website. However, the company appears to have a generous and open refund policy. If you're unsatisfied with your CBD purchase for any reason, then you should be able to get your money back.
Here's how Keoni explains its refund policy:
"If you're unsatisfied for any reason please reach out to us. We'll do everything we can to help make it right."
You can contact Keoni by email at support@trykeoni.com or phone at 855-821-6615.
Keoni Shipping Costs
Keoni offers free shipping to the continental United States on all orders.
Currently, Keoni only allows you to choose a US address on checkout. As far as we can tell, Keoni only ships CBD products to customers in the United States.
Contact Keoni
Keoni is based in Louisville, Kentucky. The company also prides itself on world-class customer service. You can contact the company today via the following: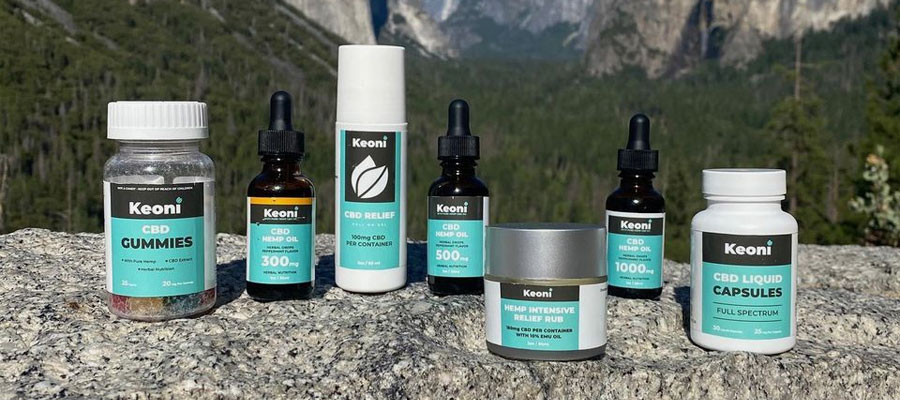 Email: support@trykeoni.com
Phone: 855-821-6615
Mailing Address: 1032 Madison Ave. Covington, KY 41011
You can also contact Keoni via email form here.
Final Word
Keoni is a Kentucky-based CBD company that makes its products from hemp grown organically in the United States. The company emphasizes pure ingredients, high-quality formulas, and natural ingredients. Although the gummies have artificial flavors and natural flavors, most other Keoni products contain exclusively pure and natural ingredients.
To learn more about Keoni and their unique lineup of CBD products, visit online at KeoniCBD.com.