The CBD oil market has boomed in recent times, as businesses around the world share their approaches to attaining natural health solutions. Though consumers have since emphasized with other forms of delivery (i.e., gummies, topicals, tinctures, pet health, etc.), the one area that this market falls short on is proper regulations. Due to this unfortunate event, several bad players have been taking advantage of consumers.
With that in mind, the best way to assess the legitimacy of a CBD company is by rating their level of transparency. One company that seems to hit all the right checkmarks is GreenPost. GreenPost CBD focuses mostly on locally grown, organic ingredients, and quality. The purpose of this review is to unravel the firm's several facets that might align with one's beliefs.
What is GreenPost CBD?
GreenPost CBD is a CBD brand that emphasizes full-spectrum solutions. This solution means that the team supports the notion of the "entourage effect," where different components of the cannabis plant are now brought together to create a synergy between them.
What does GreenPost CBD offer?
Found exclusively at GreenPostCBD.com, GreenPost CBD is mainly known for its CBD oils, topicals, and gummies. Below is a summary of what one can anticipate: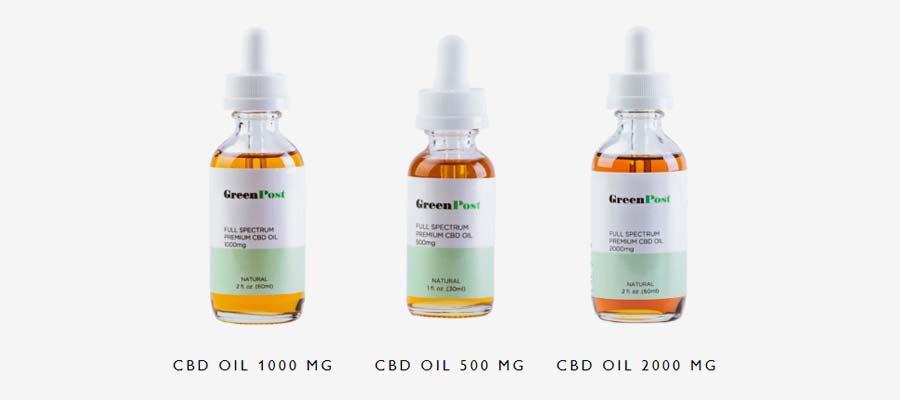 CBD Oil (500mg, 1000mg, and 2000mg)
Available in either 30 or 60ml, the GreenPost full-spectrum CBD oil was created for consumers who are potentially looking for an oral solution to prescription drugs. It is supposedly free of pesticides, herbicides, solvents, and chemical fertilizers and comes in either natural or organic mint flavors. As for its content, the GreenPost CBD oil primarily includes CBD, followed by CBC and CBG.
CBD Topicals
GreenPost's line of CBD topicals includes the following four products: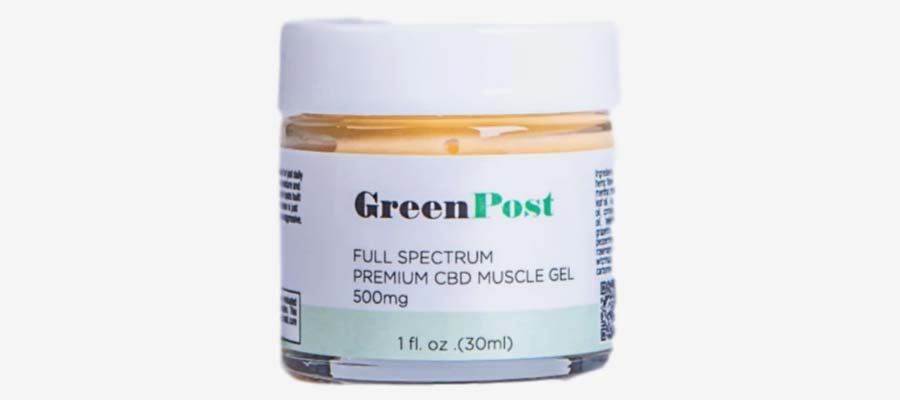 CBD Muscle Gel (500mg)
The CBD Muscle Gel deemed the perfect way to boost recovery after a workout or can be taken for daily use. Besides providing relief through the use of cooling menthol and MSM, this topical solution works to increase moisture levels and promote a sense of relaxation thanks to several essential oils.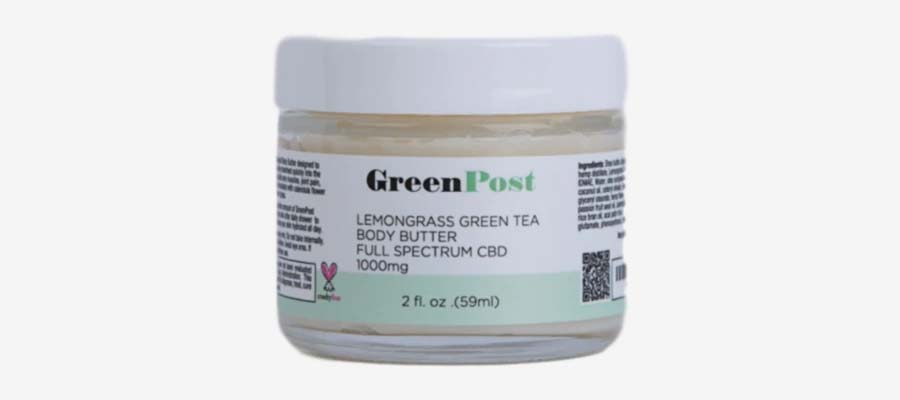 Lemongrass Green Tea Body Butter (1000mg)
Like the former, the Lemongrass Green Tea Body Butter is designed to tend to pain and poor skin health. The key ingredients responsible for pain relief include calendula flower oil, green tea, and lemongrass (along with CBD). In contrast, one's skin works to protect due to the use of shea butter and jojoba oil, among others.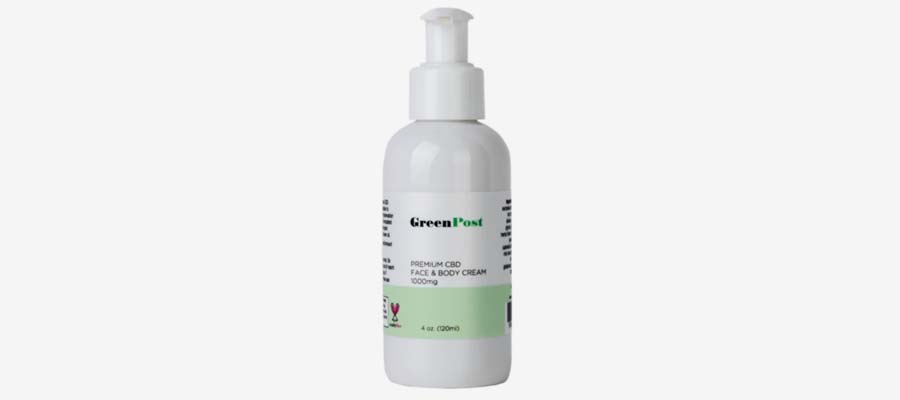 CBD Face and Body Cream (1000mg)
The CBD Face and Body Cream is anticipated to resolve pain management, skin, and eczema-related conditions. That said, it is important to note here that though a diverse list of cannabinoids has been infused here (i.e., CBDA, CBG, CBD, CBN, and CBC), there are no traces of THC.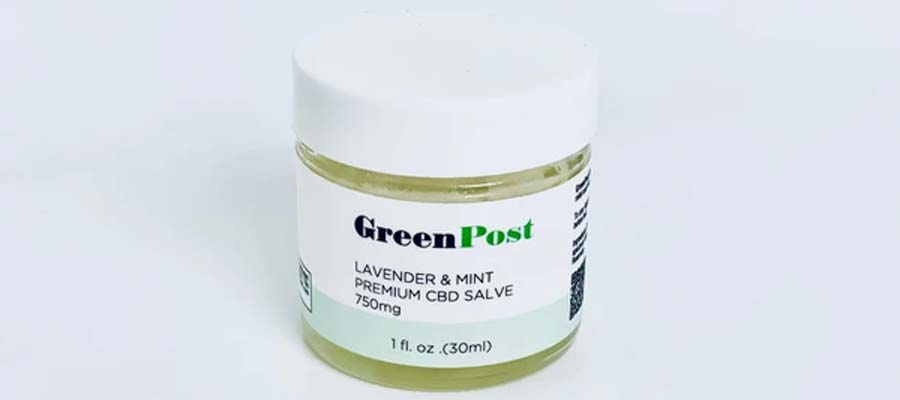 Lavender & Mint Premium CBD Salve (750mg)
Finally, comes the Lavender & Mint Premium CBD Salve, which like the three products above serve a similar purchase, but with added calming effects (i.e., lavender and mint).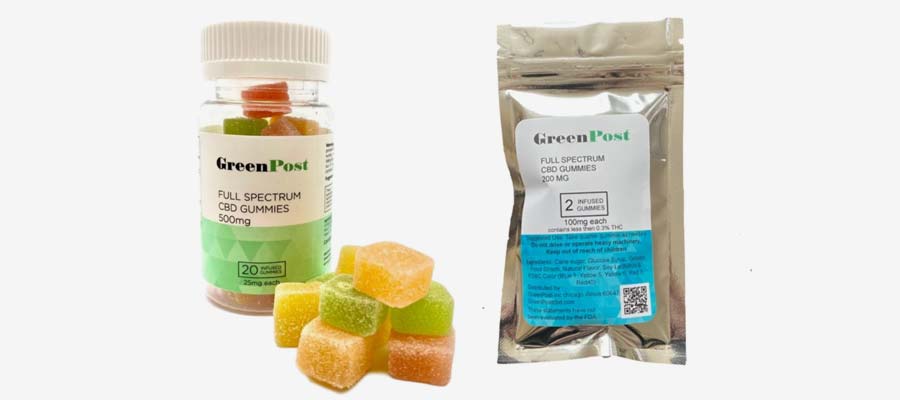 Full Spectrum CBD Gummies (200mg and 500mg)
GreenPost CBD created a line devoted to CBD gummies so that consumers can still reap CBD's associated benefits, but this time, in a tasteful manner (i.e., without having to deal with its earthy taste). As for the flavors, they are also natural but contain food coloring, cane sugar, glucose syrup, and food starch as well.
Other CBD products include flowers, vape cartridges, crumbs, and pet essentials.
Frequently Asked Questions (FAQs)
There are still many unanswered questions about Green Post CBD brand and company product line. Here is a simple straight forward guide on the most popular questions about GreenPost CBD.
What source of CBD is used in GreenPost CBD products?
From sourcing to packaging, GreenPost CBD only relies on American farmers and businesses. That said, all of their products include CBD derived from organically grown hemp in Wisconsin.
What strains of CBD are offered?
GreenPost seems to place emphasis on two types of strains: Sativa and hybrid. The Sativa strains include Lifter and Hawaiian Haze, which are said to improve one's focus, mood, and energy levels. As for the hybrids, consumers can choose from the Early Nueve, Blue Genius, KLR, Sour Space Candy, Stormy Daniels, Midwest, WU #5, and T2. These appear to be suitable for consumers dealing with stress and anxiety, pain and nausea, poor sleep, and tiredness.
What extraction process used in creating GreenPost CBD products?
GreenPost CBD products are created using pressurized CO2 extraction so that CBD and other phytocannabinoids can be isolated. As per the GreenPost team, this process was successful in producing cannabinoids that are potent and free of chlorophyll and other unwanted chemicals.
Will I get high off of GreenPost CBD products?
No, individuals will not get high off of GreenPost products. Although the team follows the whole-plant approach in their CBD products (i.e., full-spectrum), they only include 0.3% of THC, which was accepted as being safe without any effects.
Can I get access to the GreenPost CBD lab reports?
Yes, GreenPost CBD has since published a certificate of analysis for all of their products. Each report mainly expounds on the cannabinoid profile.
Who do I contact regarding my GreenPost CBD product?
For any questions regarding GreenPost CBD and their offering, consumers can contact the customer support team at:
Email: info@greenpostcbd.com
Phone: (312) 690-1869
Mailing Address: 1857 North Milwaukee Avenue, Chicago, Illinois 60647, United States.
Is there a refund policy in place?
No, there are no refund policies in place (i.e., all sales are final). The only thing offered by the team is an exchange, and this is issued if GreenPost CBD is at fault. In this case, the team must be contacted within 72 hours. Unfortunately, any problems that arise during shipment must be taken up with one's respective carrier services.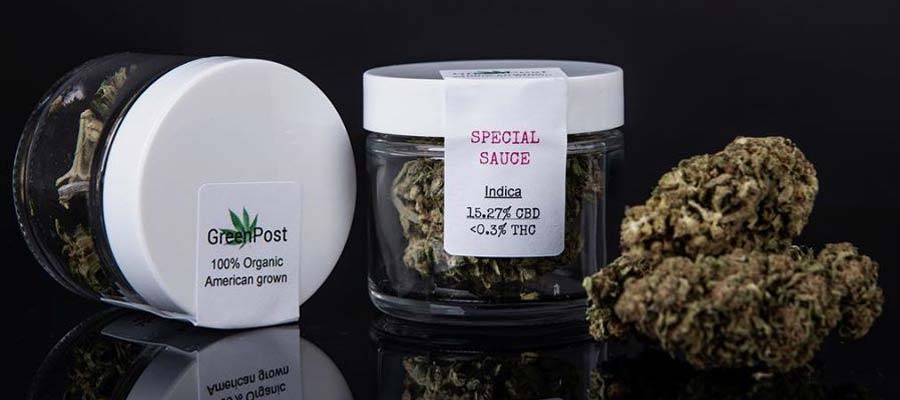 How much do GreenPost CBD products cost?
The retail prices of GreenPost products vary depending on the selected category. In other words, below is a quick look at what the numbers are:
CBD Oil (500mg, 1000mg, and 2000mg): Anywhere between $69.95 and $189.95
CBD Topicals (500mg to 1000mg): Anywhere between $39.95 and $59.95
CBD Gummies (200 and 500mg): $14.95 and $44.95 respectively
CBD Flower: $14.99 to 44.95
CBD Vape and Cartridge: $49.95
CBD Crumbs (750mg): $49.95
CBD for Pets (250mg): $49.95
Final Thoughts
Overall, GreenPost CBD appears to operate to promote wellness in consumers while uplifting American farmers and businesses. This, in many ways, can be reassuring as the country is known for stringent laws on growing hemp. As for the approach taken by the team, the entourage effect comes into play here, as each solution not only includes CBD but other cannabinoids as well. This is a growing trend, as select studies have found CBD as being just as important as every other component of the plant.
Speaking about its prices, they are quite fair considering the concentration, and the additional, all-natural ingredients. What makes GreenPost incomparable is its level of transparency. Not only did they publish their certificate of analyses, but the team has gone as far as providing educational material and even a breakdown of the strains used. The latter is usually quite rare, as many stop by directly disclosing where the CBD comes from. Knowing the strain allows one to assess better their needs, which can be done immediately on the GreenPost CBD website.
On that note, the single confusion that rests in the certificate of analyses is that consumers can only view the cannabinoid profiles of each offer, but not a breakdown of the types of toxins tested. Customer service should easily be able to answer consumer's questions on this matter. To learn more about GreenPost CBD, click here.