BioSoothe is a pain relief balm by PureLife Organics.
By applying the balm daily, you can purportedly stop pain at the source. The balm claims to use high doses of CBD for immediate relief of short-term pain, chronic pain, and other issues.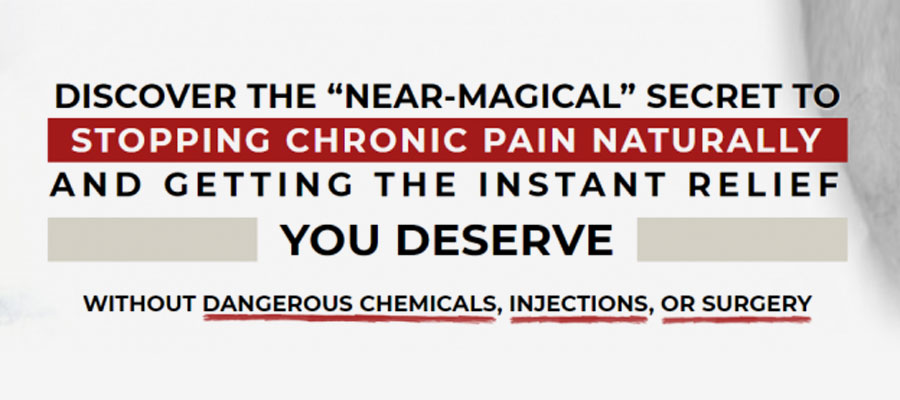 Is BioSoothe Extra-Strength CBD Soothing Balm worth the price? How does the balm work? Find out everything you need to know about the BioSoothe CBD cream today in our review.
What is BioSoothe?
BioSoothe is a CBD balm that claims to stop chronic pain naturally and provide instant relief without chemicals, injections, or surgery.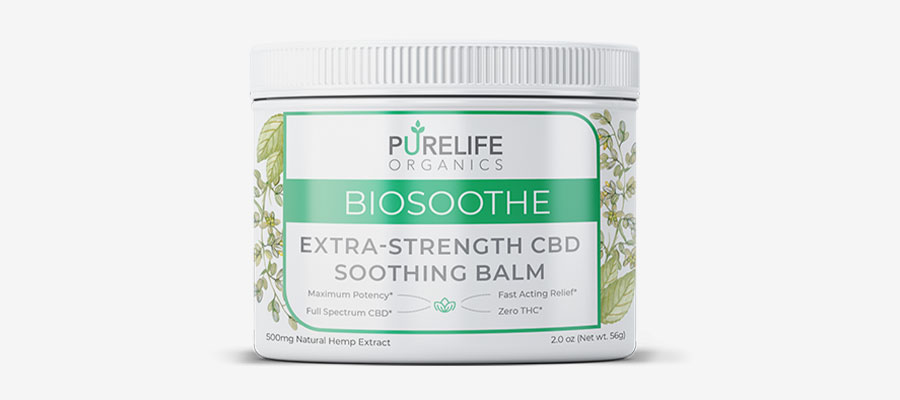 By applying BioSoothe daily, you can purportedly stop elbow pain, knee pain, joint pain, and other issues.
BioSoothe doesn't just claim to stop short-term pain: it also claims to stop chronic pain.
As part of a new marketing campaign, the creators of BioSoothe sell the product online as a "20-second trick." You spend 20 seconds applying BioSoothe daily, then enjoy long-term relief from pain.
BioSoothe is made by the PureLife Organics company, which offers a range of supplements and skin creams. BioSoothe is priced at $60 per jar and contains 500mg of CBD per serving.
Let's take a closer look at how BioSoothe works.
How Does BioSoothe Work?
PureLife Organics claims their formula will provide instant pain relief and relief from long-term chronic pain. You apply the cream daily to relieve pain immediately. As long as you continue to apply the balm regularly, you'll experience long-term relief from all types of pain.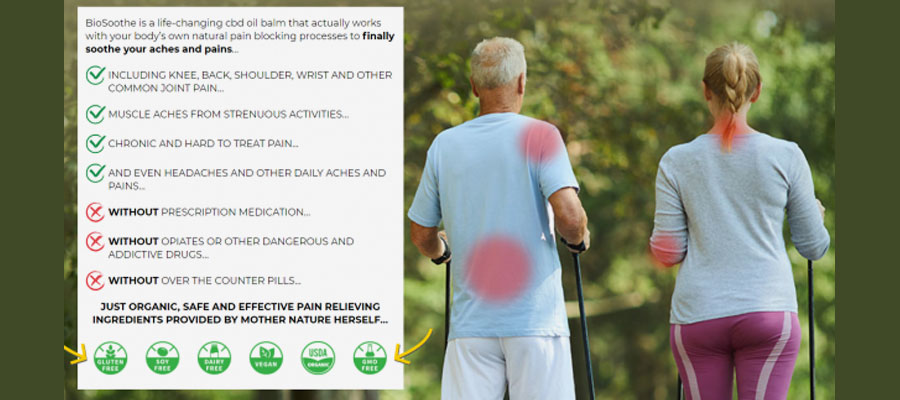 Like other CBD balms, BioSoothe works by delivering strong cannabidiol (CBD) doses exactly to where it needs to go.
Some studies show that topical CBD balms help relieve pain in various ways. The CBD penetrates the skin at the target source, encouraging your body's natural healing processes or pain relief systems.
Here are some of the features emphasized by PureLife Organics:
A "near-magical" way to stop chronic pain naturally
Get instant relief from pain.
No dangerous chemicals, injections, or surgery are required.
Target pain caused by rheumatoid arthritis, osteoarthritis, and other conditions.
Enjoy long-term relief from chronic pain without building up a tolerance
To achieve these benefits, PureLife Organics uses USDA Organic certified hemp grown in the United States.
BioSoothe contains 500mg of USDA Organic certified hemp in each jar. Typically, CBD balm manufacturers list the CBD dosage upfront, making it easy to compare different balms. There's an enormous difference between a CBD balm with 100mg of CBD and 500mg of CBD – and since BioSoothe doesn't disclose this dosage directly on the packaging, it isn't easy to know how much CBD you're getting every time you rub BioSoothe on your body.
The Story Behind BioSoothe
As part of a 2020 marketing campaign, PureLife Organics has published a video and sales page featuring Todd Lamb.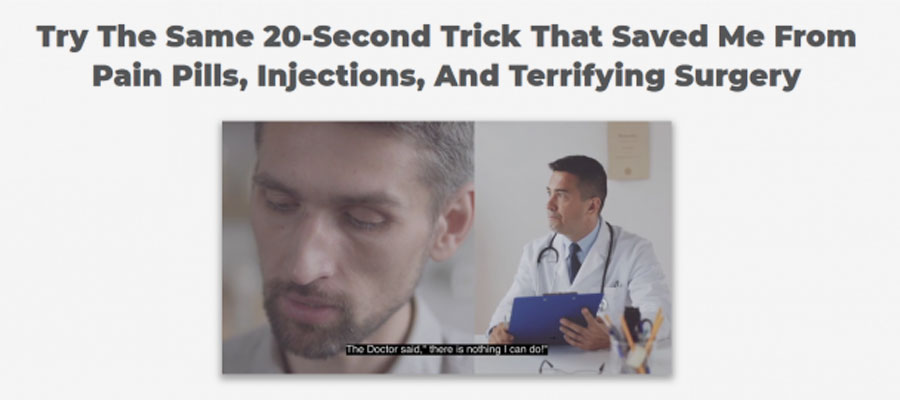 Todd suffered from terrible knee pain. Todd tried many things to solve that knee pain. He visited doctors and physiotherapists. He tried pain pills and cortisone injections. He even got multiple surgeries on his knee.
None of these things helped Todd's knee pain – until he started applying BioSoothe:
"The doctor said there's nothing I can do… My friend asked if I trusted the doctor… Why wouldn't I?… I thought to myself…Because even after countless doctor visits, physio appointments, cortisone injections, pain pills, and even surgeries……despite their best efforts……every day my knee was left throbbing with crushing pain……so bad sometimes I just had to find a place to be alone……and choke back the sobs I was too embarrassed to let out……because they made me feel weak and humiliated…"
Todd claims he had been suffering from that knee pain since high school. It was linked to an old football injury. He has a Teflon ligament in his knee to this day.
To make a long story short, Todd met up with a friend who had similar injuries. That friend used CBD cream daily to relieve the pain caused by old Vietnam War injuries.
Todd applied his friend's CBD cream, then enjoyed instant, miraculous pain relief on his knee.
He took a jar of the CBD cream home to his wife, Tara. He researched other CBD balms, then eventually purchased BioSoothe.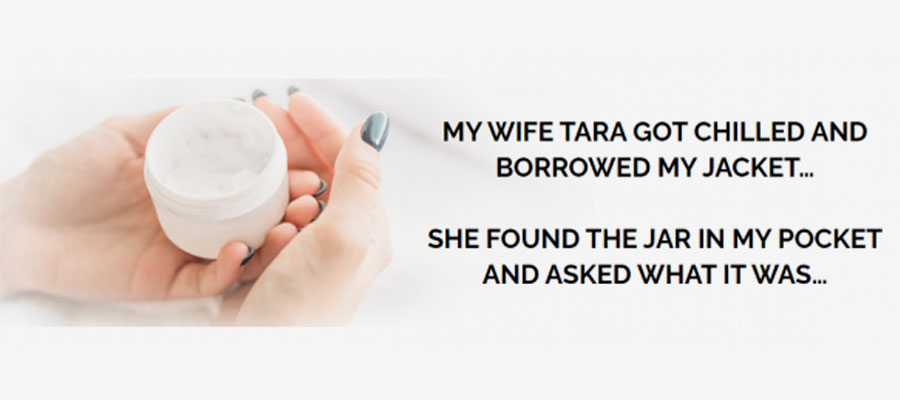 The sales page blames big pharmaceutical companies for suppressing CBD pain balms, claiming that doctors and others make so much money off pain pills and surgeries that they deliberately suppress cannabidiol.
Ultimately, we see other companies use similar marketing campaigns to sell CBD products. There's no evidence that Todd Lamb actually exists or that his story is real – although BioSoothe could provide legitimate pain relief properties.
BioSoothe Features & Benefits
PureLife Organics claims you can enjoy all of the following features and benefits by applying BioSoothe daily.
Soothe aches and pains in your knee, back, shoulder, wrist, and other common sources of joint pain
Soothe chronic pain, hard to treat pain, headaches, daily aches and pain, and more
Works even after surgeries, prescription pain medication, and other treatment methods have failed
Works without opiates, dangerous and addictive drugs, prescription medication, or over the counter pills
Made from USDA Organic certified hemp grown in the United States
BioSoothe Ingredients
Typically, CBD balms contain hemp-derived cannabidiol (CBD) mixed with binders and fillers to keep the formula together. However, PureLife Organics has added additional compounds – like menthol and curcumin.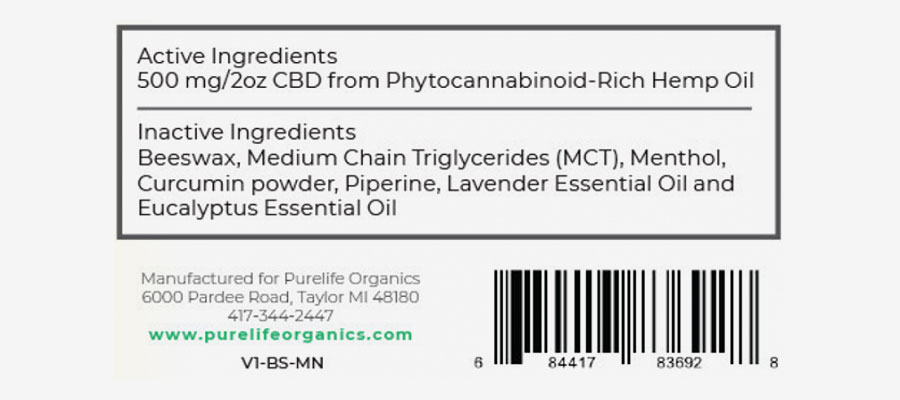 According to PureLife Organics, curcumin, menthol, lavender, and other ingredients enhance the pain relief properties of BioSoothe even further.
Here's how the company explains the benefits of each ingredient in BioSoothe:
CBD: BioSoothe contains 500mg of CBD in each jar. CBD is linked with pain-relieving properties, with studies suggesting it can help manage pain when applied topically to the pain source.
Menthol: Menthol is an herbal extract that can purportedly soothe chronic muscle and joint pain, according to PureLife Organics.
Curcumin: Curcumin is a popular natural herbal extract used to support inflammation. For centuries, the substance has been used in Ayurvedic (ancient Indian) medicine for various health and wellness benefits.
Lavender: BioSoothe contains lavender for "its well-known effects on reducing stress and anxiety." PureLife Organics claims lavender has a positive effect on your body's inflammatory response and reduces pain when rubbed directly on the source.
Inactive Ingredients: PureLife Organics holds the active ingredients together using beeswax, medium-chain triglycerides MCT), piperine, and eucalyptus essential oil.
We assume there's 500mg of CBD in each jar of BioSoothe, which is a strong to mid-range dose at this price range.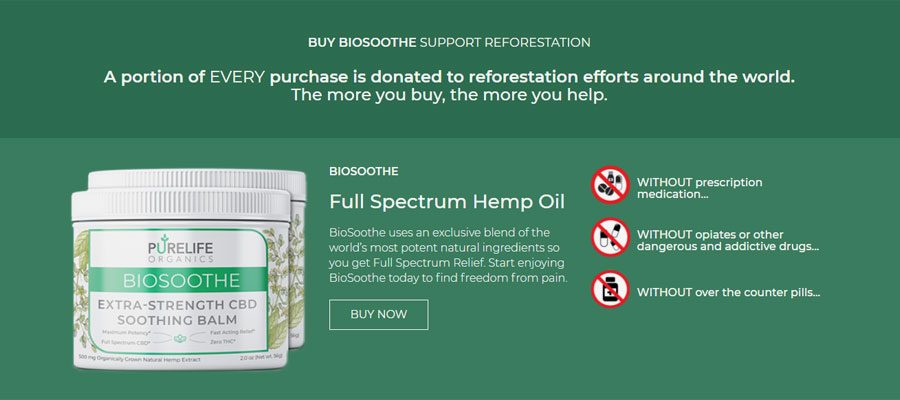 However, the BioSoothe packaging is somewhat unclear about how much CBD is within the formula. The bottle's front claims there's 500mg of hemp extract overall, for example, which is much different from 500mg of CBD. The package's back claims there is 500mg of CBD, which would be considered a strong dose.
Without lab testing, it's hard to verify how much CBD is in BioSoothe, although we have to take PureLife Organics' word and assume there's 500mg of CBD in each jar.
It's also important to note that PureLife Organics claims to use USDA Organic certified hemp – which is surprisingly rare in the CBD space. Most hemp companies do not meet USDA Organic certification standards. Many claims of use 'organic' hemp – but not USDA Organic certified hemp.
BioSoothe Pricing
BioSoothe is priced at $35 to $60 per bottle. Here's how pricing breaks down: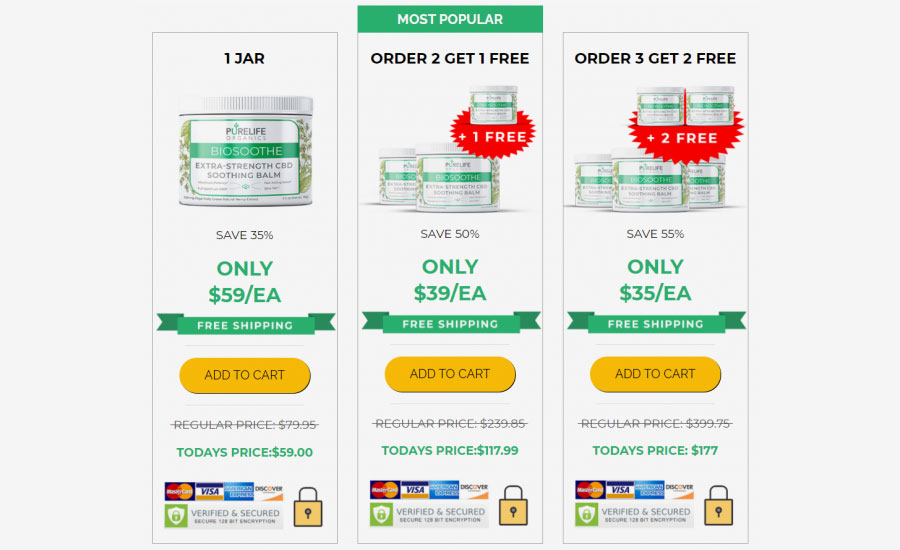 1 Bottle: $59
3 Bottles: $117.99
5 Bottles: $177
BioSoothe Refund Policy
BioSoothe comes with a 60-day money-back guarantee.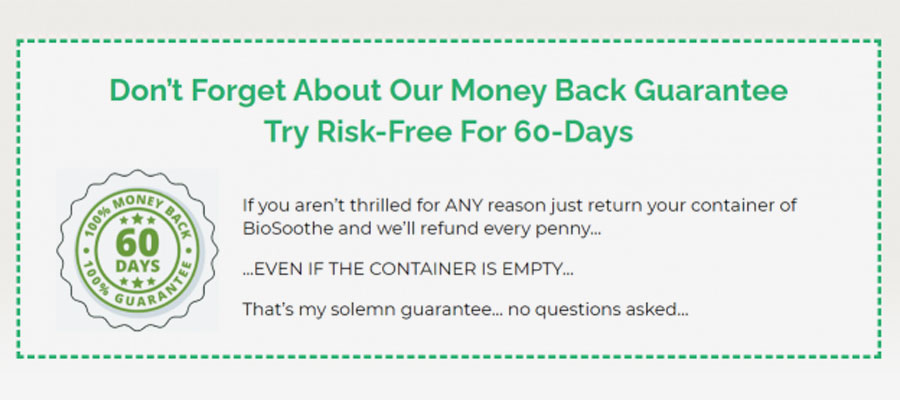 You can request a complete refund within 30 days with no questions asked. Just contact PureLife Organics to initiate the refund process. You will need to return your jar (even if it's empty) to complete the refund.
BioSoothe Bonuses
As part of the new marketing campaign, PureLife Organics bundles two bonus digital products with all purchases, including: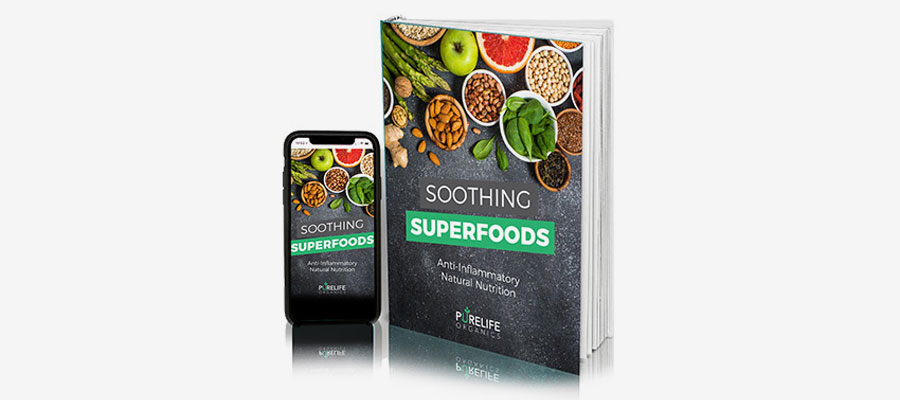 Soothing Superfoods: This eBook lists natural foods that support healthy inflammation within your body. By taking these foods daily, you can purportedly enjoy "anti-inflammatory natural nutrition."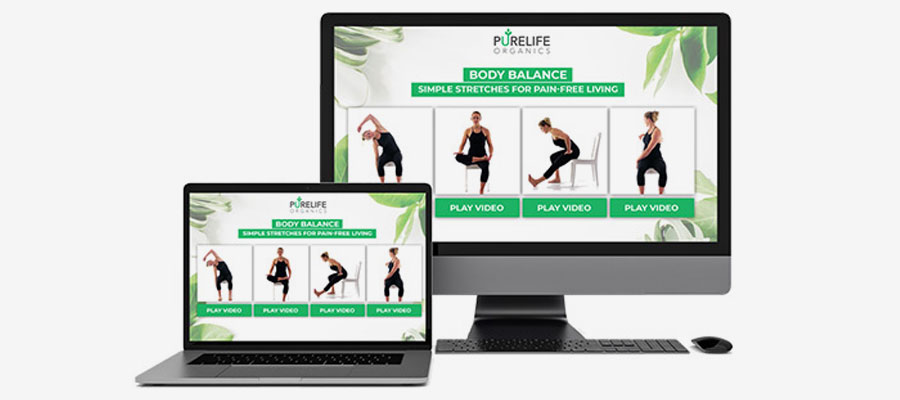 Body Balance: This series of videos walks you through simple stretches for pain-free living. If you want to stretch your way to a pain-free life, then Body Balance can help.
Both digital products are delivered immediately after confirming your purchase.
About PureLife Organics
BioSoothe is made by a health and wellness company named PureLife Organics.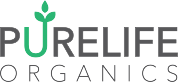 That company makes a range of formulas, supplements, balms, and other products. Popular products from PureLife Organics include Flat-Belly Tea, Pure Immunity, and Sleep Slim Tea.
As the name suggests, PureLife Organics also emphasizes 100% organic, GMO-free ingredients.
You can contact PureLife Organics via the following:
Email: support@purelifeorganics.com
Phone: 417-344-2447
Mailing Address: 6000 Pardee Road, Taylor, MI 48180
Final Word
BioSoothe is a pain relief balm that claims to relieve pain immediately, then provide long-term relief to chronic pain and other issues. By applying BioSoothe daily, you can enjoy the benefits of CBD and other ingredients.
BioSoothe contains 500mg of CBD in each jar. The CBD is sourced from USDA Organic certified hemp grown in the United States.
Overall, BioSoothe appears to contain a strong CBD dose mixed with natural chemicals and substances – not artificial ingredients like we see in other skin creams. At $35 to $60 per bottle, it's also priced reasonably compared to other CBD creams with similar doses.