NCAA Takes Part in the Marijuana Legalization Conversation, Will the Organization Remove it From Banned Substances?
The National Collegiate Athletic Association (NCAA) is very watchful of how the legalization of marijuana will take shape in 2020 and beyond in the new decade. This is currently of debate for the non-profit organization because many sports leagues are considering the removal of marijuana from banned substances, which has been blacklisted for the better part of eight decades, where an example being the Major League Baseball just took cannabis off of the list of prohibited substances.
UW-Eau Claire Athletic Director, Dan Schumacher's stance on this matter was shared, in which he stated that the decision to remove it from the banned list requires input from the 1200 member institutions. In particular, he told WEAU News:
"When we talk about NCAA athletics, it's about all sports," […] "This will be a total membership conversation. It would probably have much debate based on many of the NCAA schools that are located in states where they have legalized cannabis." […] "There are many drugs that have come off the banned substance list in my 20 years as an AD."
He also pinpointed that the organization is simply taking part in the conversation. This, according to the AD, does not imply that changes are surely to take place, as the issue hasn't gone mainstream as of yet.

That said, he did note that changes have been made in his 20-year career, where some substances were removed. He is questionable as to whether action will be made regarding marijuana soon enough.
The NCAA is a non-profit organization that regulates student athletes from thousands of institutions. They do not focus on one sport, but several. Schumacher serves as one of six AD to work in divisions 1, 2 and 3; all of which consists of different drug testing requirements.
As per Schumacher, legalization on a state to state level is what really allowed the NCAA to join the conversation. That said, for the NCAA to actually support marijuana and allow athletic students to ingest it will possibly happen if marijuana legalization is achieved on a federal level. More specifically, he said:
"Until it's a federal mandate, I think they will continue to debate this. It has become a hot button or hot topic lately, only because those drugs have become legal in certain states."
It will be intriguing to watch how the NCAA treats college athletics and sports teams when it comes to marijuana use and cannabis legalization. Back in June 2019, the NCAA Committee on Competitive Safeguards and Medical Aspects of Sports raised the THC testing limit for student-athletes to prevent triggering a positive test where they could have inhaled cannabis via secondhand smoke and could face fines and penalties as a result of this. The higher THC threshold was bumped from 15 to 35 nanograms per milliliter to avoid passive inhalation.
While the NCAA has shown a softening of its position of cannabis use, it could still be many years before any real actions are passed for college sports teams and athletes. In 2014, the NCAA did lower the penalties for positive cannabis consumption testing from one year down to half (6 months of probation), where the committee stated 'marijuana has no performance-enhancing potential' per its Substance Abuse and Intervention tool kit.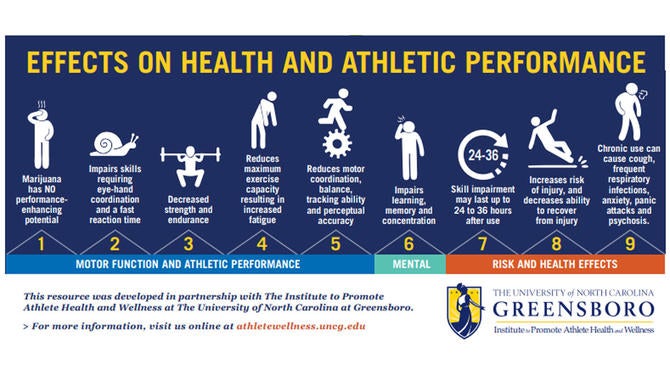 For those interested in more about the NCAA college sports and marijuana use, make sure to read the NCAA Sport Science Institute's latest presentation about cannabis and athletes. One thing is for sure, times sure are a changing in the cannabis green rush era. On the note of college athletics, the University of Colorado will actually become the first NCAA school to sign an endorsement deal with Buffs Puffs Rocky Mountain High cannabis company as the deal will bring a new line of THC-infused edibles shaped like buffalo gummies.
What's next? Time will tell and HealthMJ will be sure to keep tabs on how the NCAA views cannabis and the emerging marijuana legalization movement unfolding right before our eyes.