Looking to invest in CBD products that might address the mental and physical aspects of health? One brand immediately stands out, and this is not entirely because of the products offered, but more so because of what they reflect. Precisely, the team behind this brand has gone above and beyond to ensure that the general public is comfortable with their purchase while also supporting U.S. military veterans. This is where it is best fit to introduce the TrustBo CBD Gel Capsules.
The purpose of this review is to evaluate factors that make the TrustBo CBD Gel Capsules a potentially superior investment option over standard solutions in the market. Throughout this piece, individuals will come to learn of unique growing, extraction, and absorption processes behind each and every TrustBo CBD Gel capsule, which should make deciding a simple mission.
What is TrustBo CBD?
TrustBo, short for Trust Botanicals, is a CBD brand based in the U.S. One aspect that makes this brand rare is the effort behind each solution. Precisely, all products are said to contain organically grown hemp, gluten-free, and are deemed free of herbicides, pesticides, and any other chemical fertilizers, and have been third-party tested for quality and potency. Having said that, the main focus of this review is the TrustBo's CBD capsules, as they are not only mess-free but, are by far, the only ones to deliver consistent CBD concentrations per serving. To see how the TrustBo CBD Capsules compare to standard solutions in the market, let's go over some of its key features.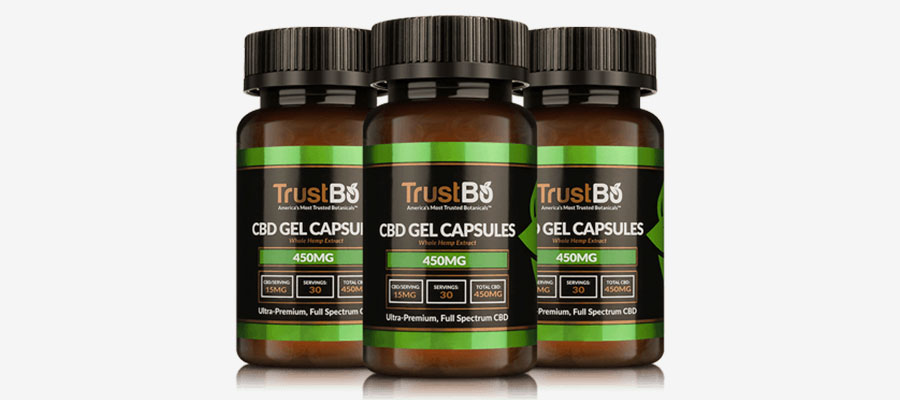 What features do the TrustBo CBD Capsules have?
According to the Co-Founder of TrustBo, Tim Skwiat, the TrustBo CBD Capsules are founded on proof of quality and the full transparency of each product, using 4 foundational pillars. Below is a quick summary of each pillar:
#1. Trust Scan Verified™
Each TrustBo CBD bottle includes a scannable QR code, which directs individuals to the appropriate, independent lab results. This is an advantageous feature to reflect upon since many other brands in the market simply leave out such crucial information. At least by scanning each QR code, awareness of what's truly being ingested will be highlighted.
#2. Seed to Harvest to Bottle Transparency™
The hemp used to extract CBD is allegedly grown sustainably in U.S. farms, namely, outside of Lexington, Kentucky. Also, TrustBo CBD is a vertically integrated company, which means that they are in charge of every aspect of each solution on; from the plant, right up until everything has been bottled. The benefit of such a process is that it can eliminate doubt associated with external hemp-production guidelines, country-based rules, and regulations, inconsistencies, etc.
#3. Certified TrustBo Extraction™
As the name hints out, the Certified TrustBo Extraction™ is their proprietary system used to extract CBD from hemp. This patented system allegedly uses a drying process followed by freeze-drying the whole hemp plant. The latter is believed to keep all of the plant's components healthy, whether it be CBD, phytocannabinoids, terpenes, or flavonoids.
#4. Phospholipid Enhancement™
Finally, what point is there in taking CBD if the body cannot fully absorb it? This is exactly what TrustBo's Phospholipid Enhancement™ is here for. As shared on the official website, the team used a natural source of phospholipids to fully protect what each capsule contains until its nutrients have been safely delivered past the acidic digestive tract.
Aside from TrustBo's four pillars of quality, the team has taken the following extra measures that aim to increase customer satisfaction:
The use of FreshTrust™ Drying technology, which is believed to eliminate post-harvest mold and other pathogens
Includes MCT oils as the CBD's carrier for increased absorption
TrustBo CBD products are all non-GMO and have been tested for heavy metals and l.ead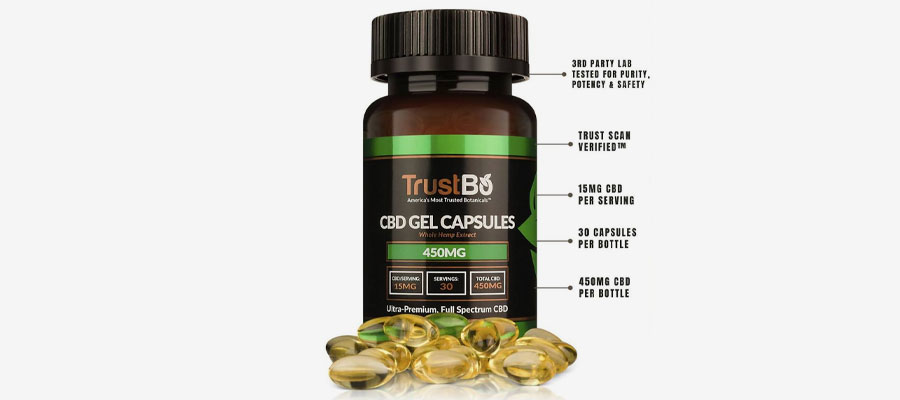 Frequently Asked Questions (FAQS)
How should TrustBo CBD be taken?
One TrustBo CBD capsule should be taken on an empty stomach. If the suggested dose doesn't bring any relief, individuals can increase the dosage as needed.
How long will one TrustBo CBD container last?
Each bottle has been formulated to last 30 days.
Does TrustBo CBD contain any stimulants?
TrustBo CBD Capsules contain neither caffeine nor any stimulants.
Will TrustBo CBD elicit psychoactive effects?
No, TrustBo CBD Capsules will not produce psychoactive effects, as each serving only includes 260mg of MCT oil and 15mg of hemp-derived CBD extract.
What are the purported benefits of taking TrustBo CBD Capsules?
The TrustBo team stands by the following benefits that are likely to arise from taking their CBD capsules:
Reducing stress, anxiety, and all associated symptoms
Supporting brain and cognitive health and mood
Easing chronic pain concerns
Inducing restful sleep
Is TrustBo CBD protected by a money-back guarantee?
Trust Botanicals is currently offering a 60-day money-back guarantee with each order. This simply means that individuals can give TrustBo CBD Capsules a risk-free try., If within the 60 days, the capsules fail to work as suggested, customer service guarantees to recompensate everyone. In order to initiate the refund process, individuals should:
Email: support@trustbo.co.
Call: (800) 604-4457
How much does TrustBo CBD cost?
Each bottle contains 30 servings (or in total, 450mg of CBD) ample for one month. Here are distinct price points to choose from:
1 TrustBo bottle: $49 each
3 TrustBo bottles: $42 each
6 TrustBo bottles: $34 each
To order Trust Bo CBD gel capsules, simply visit the official website and order directly from Trusted Botanicals today.
Meet TrustBo
TrustBo is a brand that houses a group of experts who are "passionate and committed to excellence." To date, the team claims to have succeeded in selling over 15 million quality nutritional products worldwide. Here's a quick glimpse into their overall mission:
"To deliver premium-quality, earth-grown, hemp-derived CBD products with unmatched purity, quality, traceability […] Our vast experience and intense scrutiny of the industry has led us to the sad conclusion that most CBD brands and products out there are ineffective […] That's why it's our mission to end your search for the purest, most potent, most incredible CBD brand with TrustBo."
Final Thoughts
The TrustBo CBD Capsules are one way to ingest CBD without having to worry about inconsistency in doses or messiness. Each capsule contains 15mg of CBD, which makes it easier to measure, especially for anyone who might need more. Next, TrustBo's vertically integrated nature increases confidence and trust in the brand. All steps up until the manufacturing processes are traceable making this a problem-solving piece of cake.
Above all, the effort that went into protecting the nutrients found in CBD, its terpenes, etc., and ensuring that they are easily absorbable by the body makes TrustBo a brand with a lot of value. To think that individuals would otherwise need over two servings to match one of the TrustBo CBD capsules is stunning. For these reasons, the suggested prices appear to be more than justifiable. For more information on the TrustBo CBD Capsules, click here.