Is the Hemp CBD Production Bubble Popping? New Reports Show Product Price Differences Despite Market Growth Trend
Three new reports were released regarding the hemp CBD market; one addressing whether or not the hemp CBD production industry is bursting, another on the huge CBD product price mark up discrepancy and lastly new research from Trendsource and Nielsen both reveal bullish market predictions for hemp and CBD in the coming decade.
How Will the Price of Hemp CBD Work as Markets Open Up?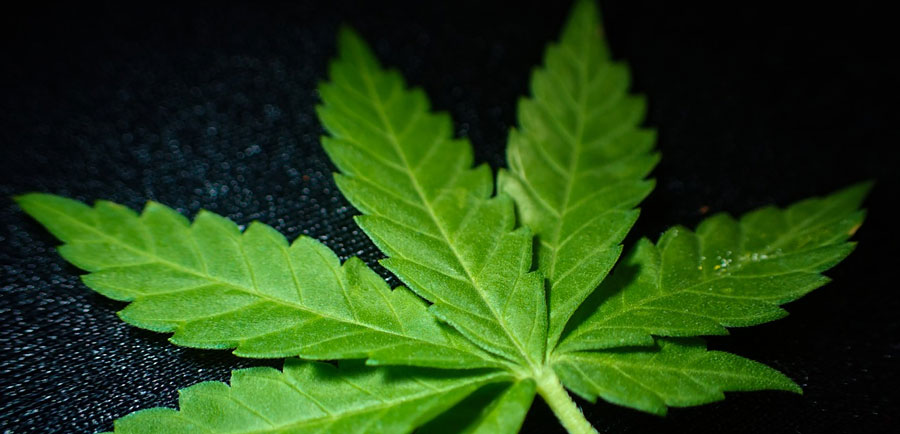 When hemp was originally legalized, many farmers jumped on the opportunity and planted hundreds of acres of the plants.
Now, it is difficult to sell this massive amount of hemp, due to excess.
For the last 20 years, many farmers in Canada have been growing hemp, but the legality of CBD has led many of these cultivators to join the industry. Unfortunately, according to reports from Producer.com, the interest from growers could be slowing down. In fact, the website suggests that last year may have been CBD's heyday, and 2020 could turn out much different.
When the Farm Bill passed at the end of 2018, farmers in the US became obsessed with growing hemp for the purpose of developing CBD. The substance popped up at many trade shows and conferences across the continent. Jeff Kostuik remarked that he remembers seeing the immense enthusiasm by attendees.
Kostuik is the director of operations for Hemp Genetics International at Manitoba and eastern Saskatchewan. This company presently sells seeds, produces hemp via contracts, and offers agronomic services, and it is often found at meetings and events involving hemp in the US. During shows, Kostuik often takes a poll of the audience, learning about the participation of farmers in the hemp industry. He stated, "Last year, 99% (of people), plus whoever's dog was sitting next to them… said they're growing for CBD."
In Canada, CBD is seeing much of the same tone and reaction. Farmers were excited to get involved n the hemp CBD industry after two decades of just producing for grain. Data presently isn't available for the acreage that hemp takes up, but it is most likely that the acres used for CBD exceed the hemp that is being used for fiber and grain last year. Much of the boom seems to have happened as a result of the media's attention on the potential for major global sales, in relation to CBD.
The flowers, buds, and tissue come from the hemp plant to source CBD and a variety of other cannabinoids. There's some research that suggests that CBD is capable of treating many health issues that consumers can face, including anxiety, pain, and insomnia. However, the interest from the public may be dwindling.
When speaking at meetings in the United States in December, Kostuik found that about half of the crowd were currently growing hemp for the purpose of CBD. The other half was divided amongst growing hemp for grain or fiber, which is likely because many US farmers were told that growing hemp for CBD could lead to a small fortune.
Ken Anderson, the owner of Legacy Hemp, said,
"It's built on hyperbole. It really is. Everyone wants to talk about this crop I can make $50,000 an acre growing. 'How do I get involved in that?'"
Unfortunately, many of these promises have turned out to be inaccurate, leaving many American growers with hemp flowers and biomass that simply cannot be sold. He remarked,
"In this industry, it's always the producer who gets burned."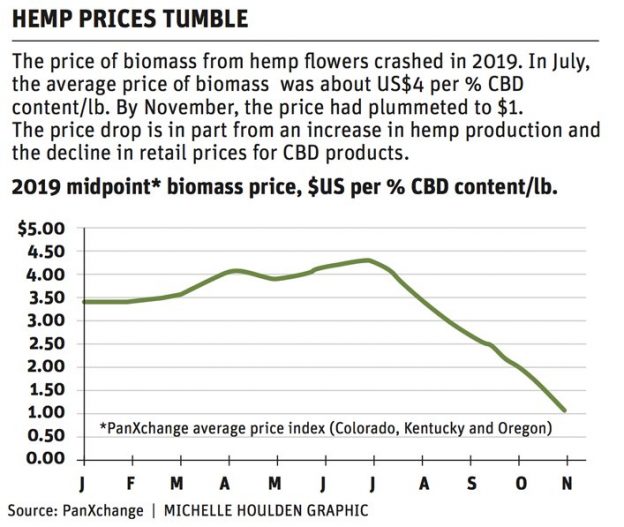 Dan MacLure, who is a farmer located in Vermont, spoke with Reuters, stating that he spent last year growing a total of eight acres worth of hemp to use for CBD. However, as recently as November 2019, he had yet to secure a buyer. He said,
"It's heart-wrenching thinking about all the work and money you put into it. I'm not sure I'm going to be venturing out in this again."
While there are buyers in the industry that will purchase the hemp biomass, most farmers are disappointed to find that the prices are rather low, in comparison with what they thought that they would earn. Anderson stated,
"If you look at the retail price of CBD products right now, they're coming down every single day. The market won't bear what these (producers) were expecting (for price)."
In Canada, the scene is much different, according to Kostuik. On the western side of the country, there are many farmers with bales of hemp that are ready to be used for CBD. However, without options for hemp processing, there are many challenges in the market. While individuals in the US are starting up companies left and right, very few businesses in Canada have been given the licenses necessary to actually process CBD. As a result, there are still very limited buyers for hemp biomass.
Kostuik stated, "(The) tardiness of Health Canada getting those licenses out has slowed down the enthusiasm. I don't think there's enough processors available to do it… If there are, they are maybe looking for something with a higher percentage of (CBD in the biomass)."
In the spring, it is likely that farmers in the United States will likely end up with fewer acres that are dedicated specifically to hemp. However, that doesn't mean that the CBD hype is over. Anderson remarked that CBD is the first thing that people think of when hemp is mentioned.
Time will reveal whether or not the hemp CBD production bubble is bursting. But there are other looming inconsistencies that could hinder market growth like huge product pricing markups and margins not favorable for sustained success.
New Market Report from Leafreport Reveals Up To 3,200% Price Difference in CBD Products
The CBD industry is rather new, and the lack of consistent regulation has led many companies to develop their own pricing without regard to competitors. This variation can create a lot of confusion for customers, but the recent reports from Leafreport aims to create more honesty in the market.
The report recorded a 1,000% price difference between CBD tinctures among the different products.
Over 53 brands were reviewed for their pricing of CBD formulas, including topical formulas, capsules, and others.
The Leafreport CBD Market 2020 Consumer Research Insights report is a very detailed look at how the hemp-derived cannabidiol-infused product pricing industry has shaped up thus far.
While Leafreport consistently aims to create a certain level of transparency in the CBD industry, which can be rather difficult without regulations. Recently, the company published a market report that covered 3,500 CBD products, comparing the prices among similar types of products. While it is obvious that the market can vary, the shocking data found a difference of up to 3,200%, according to a recent press release from Yahoo! Finance.
The compiled information shows products from over 53 brands, including details on gummies, capsules, e-liquids, vaporizers, isolates, pet products, topical skincare, and various bundles. Noa Gans, Leafreport's Head of Product, stated,
"What we encountered was a wild, wild west scenario in terms of manufacturing and marketing. There's no uniformity in terms of quality, concentrations, prices, or even labeling. Newcomers to CBD have simply been unable to shop wisely."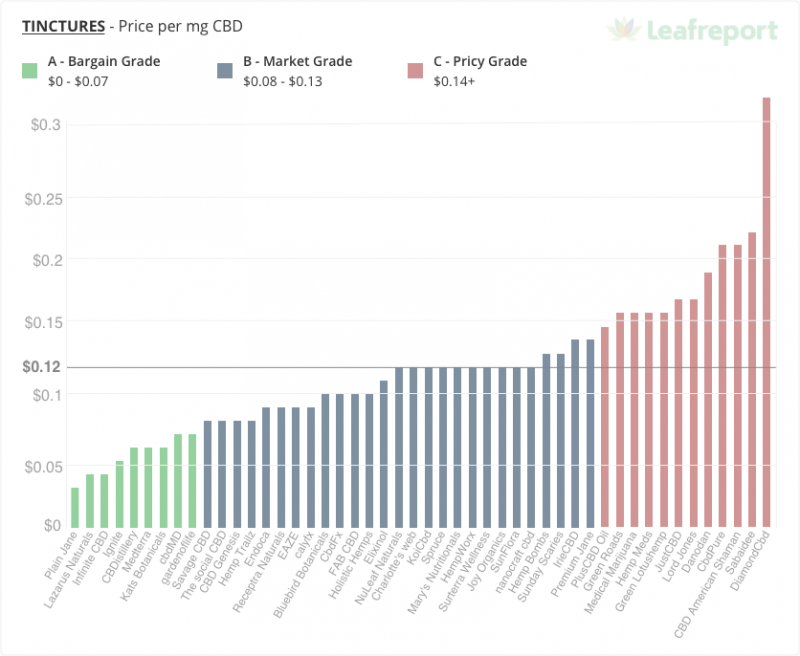 The results of this report helps consumers to more broadly understand the nascent market. One of the most notable pieces of data that Gans shed light on was the differences of price in related products. While a 250% price difference among vapors was already substantial, the reports also found 1,000% difference in tinctures. Ultimately, the total overall difference was 3,200%.
Gans remarked, "We've successfully created benchmarks that answer nearly any question a curious CBD user could encounter. Whether its potency or price points, this report gets to the heart of what everybody needs to know."
With the release of this document, Leafreport demonstrates its effort to establish answers for a market that is still basically a mystery. Considering that approximately 14% of Americans are presently integrating CBD into their routine, especially for pain relief and sleeping support, the work that Leafreport has taken on is important and, to many, necessary.
Gans noted, "With the industry growing at such a rapid pace, an educated consumer base is absolutely vital. Transparency and the hunt for the truth has to come above everything else."
The full report can be viewed here, which helps consumers to be "smart" about their CBD choices. Despite a possible crash in the hemp-derived cannabidiol production market, and the staggering results found in Leapfrog's CBD product price discrepancy, there are still bullish industry forecasts coming from Trendsource and Nielsen about where the market is headed in 2020 and beyond.
Nielsen and Trendsource: CBD Industry Projected to Witness A Huge Growth This Decade

The cannabis industry has begun the new decade on a sound footing as experts forecast immense growth in the industry within the decade. According to a report by Trendsource, the estimated revenue from the marijuana industry will hit $10 billion by the year 2024. Revenue collected from the industry in the last year exceeded $1 billion and will be growing further.
Nielsen has also made a conservative projection that the industry will reach between $2.25 and $2.75 by the end of 2020. These predictions are good news to players in the industry ranging from manufacturers, growers, and business enterprises tied to hemp-extracted CBD products.
The forecast is pegged on major developments happening in the CBD market, which will subsequently favor the entire marijuana industry. Among these developments is educational or what may be referred to as informative programs targeting to inform consumers on CBD products, especially in the health sector. According to a study conducted by Nielsen, 70% of health practitioners have at least advised on CBD to their patients.
However, only about a third of these health practitioners have the requisite knowledge about hemp-extracted CBD. Manufacturers are investing in educating health care personnel. This will be a smart marketing strategy that will aid in accelerating new trials and enhancing trust in the numerous CBD brands and products in the market.

The Food and Drug Administration ruling passed toward the end of 2019, rejecting cannabinoids as being unsafe for both human and animal foods has not significantly affected the market. Consumer demands for ingestibles such as CBD-infused beverages are incredible.
LifeAid, a beverages company, recently began selling CBD-infused drinks online, and surprisingly, it managed to sell about 200,000 units within 36 hours. If the FDA were to approve CBD as Generally Recognized as Safe, the CBD user base for ingestible products would grow to about 375% within a year.
With the recent innovations of nano-tech and water-soluble CBD, enhancements in absorption will see CBD consumption increase as there are numerous ways of consuming the product. Manufacturers are shifting focus to functional waters, tea, coffee, sports drinks, and energy drinks.

Pet CBD is also expected to witness some growth as Nielsen's report shows that about 37% of dog owners feed their pets vitamins. 20% feed their dogs CBD products, not specifically meant for dogs. Manufactures of CBD products should, therefore, create a distinction between products intended for human consumption from those meant for pet consumption.
Reports show that non-consumers are very comfortable shopping in convenient stores with CBD products. Consumers and non-consumers are enthusiastic about the topic surrounding the hemp-extract. Generally, the products have been accepted well in the market by both consumers and non-consumers.
The price of CBD products is expected to drop according to the forecast. In a bid to make CBD products available to all consumers at an affordable price, manufacturers are determined to close the price gap between CBD products in comparison to CPG products of comparable needs. When that is done, CBD products will be better placed to compete with CPG products. An increase in hemp farming by raising the number of hemp acreage and licensing of more growers will help lower prices. Enhanced production efficiency will attract more hemp farmers within this decade.
Despite the stand taken by the FDA, producers have not stopped producing CBD products. Interestingly, space has been created for small players in the industry to capture the market. Toward the end of 2019, Queen City Hemp distributed CBD seltzer to hundreds of groceries and convenience stores in about seven states. According to the co-founder of the company, Queen City Hemp is not worried about being on the wrong side of the FDA backlash policy because they are not mislabeling their products.
A battle is expected to ensue in the retail sector as CPG retail channels take over specialty retailers, online retailers, and tobacco and vape shops. According to the vice president of Nielsen, Rich Maturo,
"unlike the current CBD consumers, new users who admit they would use CBD in the next 12 months but are yet to said they would be willing to buy their merchandise from mass merchandiser or grocery shops. The majority of consumers are also willing to buy CBD products from chain drug stores."
It will be interesting to see how the hemp CBD world transitions as the new decade begins and the green rush era unfolds in 2020 and beyond. From possible hemp CBD production bubbles bursting to huge product pricing concerns to rising trends and demands (and marijuana legalization), there promises to never be a dull moment as cannabis continues to grow into the mainstream cultural acceptance in the new 2020 decade.