A new investigative report is released by The Washington Post regarding CBD and Amazon.com, the world's biggest ecommerce shopping platform, reviewing a variety of CBD hemp extract products that claim one thing and contain another. Over 80% of the test results revealed cannabidiol was found in the products despite being against marketplace rules.
---
Overview Summary:
The merchants found selling CBD products claimed to have sent these products by mistake or claimed that the remedies were sold by third-party companies that were not authorized.
Over three billion bad listings were blocked from being posted to Amazon in this year alone.
The Washington Post bought $566 worth of product, reviewing 13 different 'hemp extract/oil' tinctures where all but a staggering 2 products had CBD in them, 1 even containing THC, or tetrahydrocannabinol.
---
Amazon's Marketplace is Littered with CBD Products
When it comes to health products, CBD supplements are one of the most popular formulas in the market right now, surpassing turmeric and elderberry on the list of the top selling ingredients in 2019. Marketed in everything from chocolates to sodas to topical formulas, this cannabis-based and hemp-based substance is supposed to provide a soothing and relaxing effect to the user. While it is presently legal to purchase and possess, Amazon has always banned any CBD product from being sold on their website but marketers and product manufacturers seem to have exposed a loophole in bypassing the filters and protection measures setup.
On the e-commerce website, the policy explicitly states, "Listings for products containing cannabidiol (CBD) are prohibited." However, it doesn't look like the policy is followed as curtly as the website states, and a brief investigation by the Washington Post revealed that there are actually multiple products with CBD available to consumers by using the keyword descriptions of hemp oil and hemp extract vs CBD or cannabidiol. Here is a video they made outlining how they conducted the process and research into Amazon's failing CBD product ban policy:
The Washington Post paid Evio Labs to conduct a study on the products listed on Amazon. Evio Labs, which specifically analyzes products in the cannabis industry, found that 11 out of 13 items purchased by the publication included CBD. One of the products even had trace amounts of THC, which is the substance in cannabis that causes the user to feel "stoned."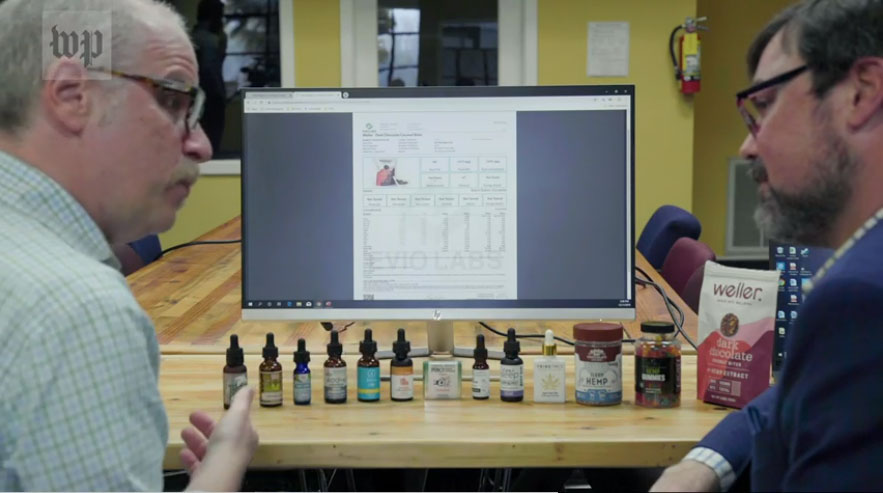 One of the products companies – Weller – is based in Boulder, Colorado, and offers many different types of goods on Amazon that have CBD inside. However, the company has changed its packaging for the products that they list on Amazon, which means that their Dark Chocolate Coconut Bites don't include any mention of the CBD. Still, co-founder John Simmons insists, "It's the same product," adding that much of the struggle has to do with finding the way to work with the mainstream CBD market.
Though the majority of these products state nothing in their description on Amazon about having CBD included, consumers familiar with the brands can search for the products directly. The fact that these products have CBD is only actually hidden on Amazon. Otherwise, consumers are easily able to learn this information from product reviews, social media, or other websites, which have already demonstrated their own testing.
The investigation pursued by The Post shows how the changes in the Amazon platform are affecting businesses, but it also speaks volumes of the way that Amazon.com is policing the products sold. Millions of items are listed by millions of sellers, and it is clear that Amazon hasn't fully vetted them all. Instead, the platform uses advanced algorithms that help to filter through descriptions.
Once asked about these listings by The Post, the company removed some of them, though it stated that investigations were ongoing with each of the sellers. Patrick Graham, a spokesman for Amazon, stated:
"Bad actors who attempt to undermine our store do not reflect the flourishing community of honest entrepreneurs that make up the vast majority of our seller community. We move swiftly to hold bad actors accountable by removing selling privileges, withholding funds, and pursuing civil and criminal penalties."
At this point, apart from stating that it has the freedom to sell what it wants, Amazon didn't actually give a reason for its strict policy against selling CBD. Despite being legal through the Farm Bill of 2018, this status is still a bit of a gray area, as some states still prohibit it from being sold.
The merchants who sell these formulas, however, seemed to have every reason for posting the products to Amazon. Some of the makers said that they had sent the wrong products, while others said that the products were sold by unauthorized third parties. However, none of these merchants appeared to take responsibility for selling CBD-infused remedies. Sequoia Price-Lazarus, the chief executive and founder of Seattle-based Lazarus Naturals, stated, "We're trying to control a problem [of unauthorized sales] that's really, really hard to control."
In the last year alone, Amazon has already blocked over three billion listed for being suspected of violating these policies. However, the platform did not say how many were removed that were already published.
A quick search on Amazon.com for CBD will show all shapes, sizes and types of products being offered, from oils, to gummies to skincare, all claiming to have zero CBD (thus allegedly being THC-free) in them despite The Washington Post and Evio Labs finding and testing 11 out of 13 products did indeed contain trace amounts of cannabidiol extract. What is worth noting that can be scary for users of the CBD containing hemp products purchased on Amazon.com is the fact that if they have CBD, they may have THC too – which those who work and have strict employer policies or get drug tested randomly may be at fault by using these tainted CBD/THC hemp products.
Jeff Bezos, the man responsible for founding Amazon and working as its chief executive, is also the owner of The Washington Post. Kudos goes out to Jay Greene, The Post author who wrote the article as it will be interesting to keep track of how Amazon monitors the marketplace for listed CBD products as the 2020 calendar year is on the horizon, which means high-tide health season is right around the corner.